Oleg Lola
CEO
Oleksii Ostroverkhyi
President
Natalia Ostroverkha
Chief Operating Officer
MobiDev helps visionaries create new software products with ease and joy. So they can focus on what really matters: their business and clients.
Nikolay Semikin
Chief Technology Officer
Olena Ganchyna
Head of Business
Alexandra Ilinskaya
Head of Sales
Visionaries burn with the desire to change the world around them. They see the industry's future and create new value. Those product ideas and concepts are shaping the future.
Oleksii Tsymbal
Chief Innovation Officer
Nick Shamrai
Head of Research & Development
Marcel Madjanta
Deputy Head of Research & Development
To create a game-changing product, there's a need for a strong team. People, who will be on the same page to help ideas grow. We believe that it's vitally important to support the visionaries' fire.
Andrew Makarov
Head of Mobile Development
Anastasiya Berestovaya
Head of Delivery
Sergey Ivanov
Head of Quality Assurance
The team should give a feeling of lightness when everything is simple and clear. Nothing should block the progress – this is the renewable source of energy and project vitality.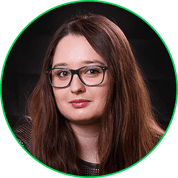 Ekaterina Zagorovskaya
Design Team Leader
Yuriy Luchaninov
JavaScript Group Leader
Eugene Kuzminov
Ruby Team Leader
It is our mission to take care of 1000s of secondary, yet still important details. We believe that Visionaries should not be grounded by a necessity to dive into technology and the routine of management.
Alex Vasilchenko
Web Team Leader
Rustam Irzaev
.NET Team Leader
Serge Koba
Ruby Team Leader
MobiDev dives into the client's business case and emerges with viable options. "Don't worry, we'll take care of it" is always one of the options. Investing 30% of MobiDev's R&D efforts into researching new technologies makes us a competent partner.
Anton Logvinenko
PHP Team Leader
Serhii Maksymenko
Data Science lead
Victoria Palchyk
Business Development Manager
We believe in building lightweight and clear communications. The core principles here are to be fair and client-centric. And it has been proven by Upwork: MobiDev earned a 100% delivery success rate.
Xenia Potiakova
Business Development Manager
Karina Anisimova
Business Development Manager