How to Create an Augmented Reality App: Technology Guide 2023
The development of AR projects is more difficult than it seems at first glance, especially if you are looking to create not an ordinary AR feature for fun, but a serious multifunctional product. Augmented reality has gone beyond the entertainment industry and is actively used in construction, retail, education, manufacturing, real estate, and more these days. This guide covers the development of such projects that require not just animations or graphics, but the design of complex systems for truly innovative solutions.
Types of Augmented Reality Apps
Before diving into augmented reality development tools, let's recall types of AR applications including marker-based, markerless, location-based, and superimposition AR solutions. 
Marker-Based AR
These applications utilize a particular 'marker' like a QR code or other image. 3D content in the app is placed in the world relative to, or on top of the marker. An older, but interesting example of marker-based AR is the PlayStation 3 Wonderbook, a gaming 'peripheral' that allows players to view a spell book on their screen. The book rotates and moves when they pick up the device and move it around. The camera uses the patterns on the actual book as a reference to display the AR content, a technology that is often used today on Snapchat and Instagram.
We use a marker-based approach to create solutions for AR indoor navigation, for example. The user has to scan the marker to start a route with AR pointers and reach the desired location within the building.
Markerless AR
Instead of using set patterns or codes to trigger the content, markerless AR utilizes a camera to detect environment patterns and motion sensors to detect surfaces and place 3D objects. This typically involves a number of different technologies working together, such as:

GPS and other location tools

Digital compass

Camera

Accelerometer and Gyroscope

Depth sensors



The latest devices are equipped with depth-sensing hardware (LiDAR, ToF) to improve precision. Markerless AR is powered not only by depth sensors and other positioning data but also by ML algorithms on top of this data. This allows for a more accurate rendering of 3D content and powers the illusion that digital objects are part of the real world. 
Markerless AR is probably the most popular type of augmented reality now. You can use it for numerous cases. For example, it's used to build try-on solutions like IKEA Place, that allow you to try furniture that you want to buy right at your home or office in AR. Augmented reality measurement tools for the construction industry are also powered by markerless technology. 
Location-Based AR
When users enter a particular location, AR applications can use that data to accurately display virtual content. This is how location-based AR works. Instead of simply displaying an object in relative space, developers can show objects in geographical space for users to observe and interact with.

Technology-wise, location-based AR relies on GPS, a digital compass, and an accelerometer. Moreover, there are several approaches to narrow down the position of the device:

BLE (Bluetooth low energy) beacons

VPS (Visual Positioning System)

Wi-Fi RTT

UWB (Ultra-WideBand)
This type of AR is often used in solutions for the travel industry because it allows you to launch an AR experience as soon as the user reaches a point of interest.
Superimposition AR
This type of AR involves digitally replacing an object or superimposing a virtual object on top of another. For example, an app that can digitally change the color of your couch could be considered superimposition AR. This technique is useful for cause-and-effect demonstrations. For example, a user could point a camera at areas of their city to see what it looked like ten years ago from an archive of Google Maps. 
Technologies Used to Develop Augmented Reality
Technologies used in augmented reality app development can depend on a number of factors, like the type of hardware being used, the available power of the device, and what application AR is being used for. 
Mobile Augmented Reality Platforms
Smartphones have unique advantages compared to other AR platforms. They're prevalent in the market and are extremely portable. This makes AR more accessible to many consumers since bulky headsets and elegant smart glasses haven't quite hit the mainstream just yet. Because of this, mobile AR is a prime target for business applications.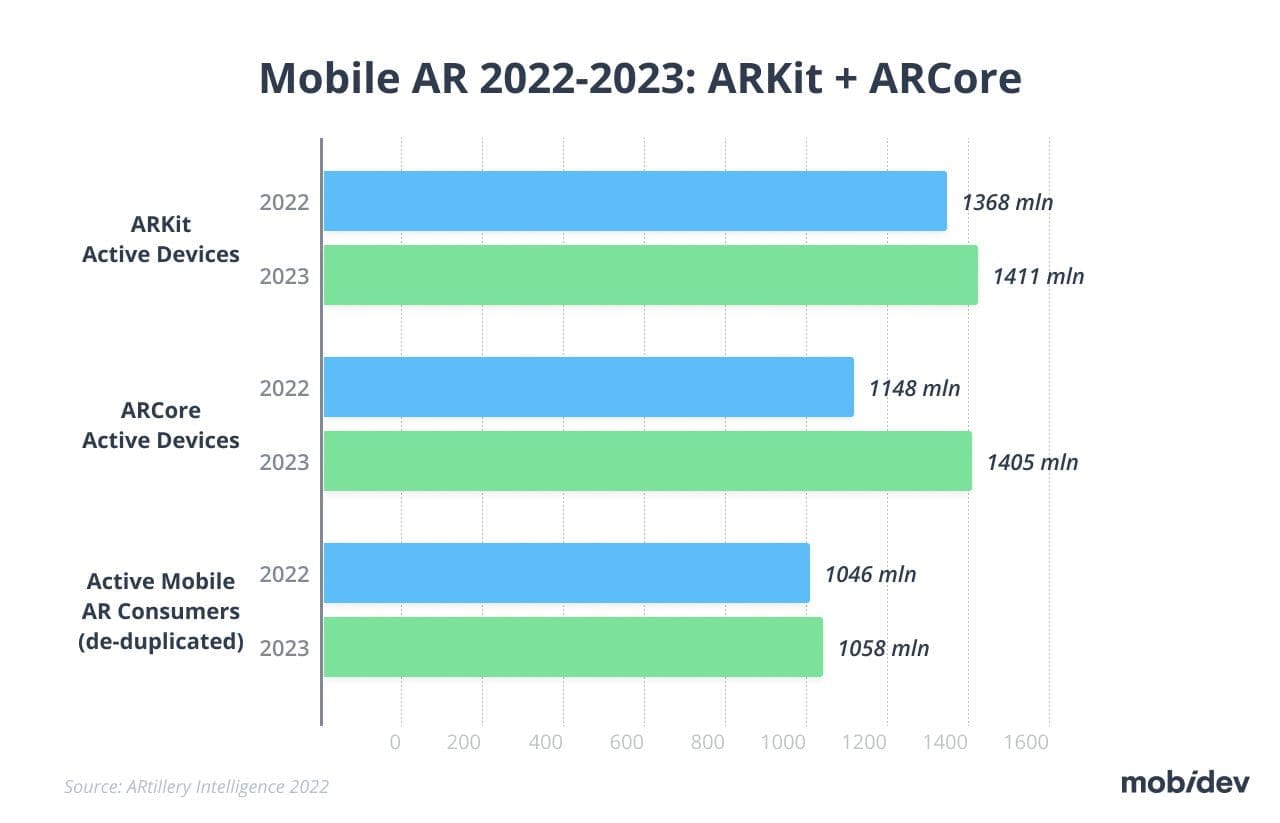 Although mobile AR may not be the most powerful or immersive, it certainly has the potential to be very profitable and is one of the most important augmented reality trends to keep track of. Moreover, mobile AR can be a cost-effective way for business owners to join the metaverse trend. Try-on solutions that allow you to test cosmetics or clothes before buying, AR avatars and filters available to users on a smartphone can help businesses to communicate with customers even in a virtual environment.

There are three approaches toward mobile AR that businesses need to choose from:

Native Android AR applications with ARCore

Native iOS AR applications with ARKit

Cross-platform apps



Native augmented reality app development allows developers to take advantage of the power of a device. In turn, a cross-platform application may not be able to take advantage of powerful native features but it can minimize the development time. Creating the same app with native code on each platform will be more expensive, but if more power and features are required, it may be more effective in the long run. If the application is fairly simple, cross-platform code may be enough.

Despite Android dominating the global OS market, developers on GitHub have historically seemed to prefer ARKit based on the number of repositories over the past several years. 
| | | |
| --- | --- | --- |
| Year       | ARKit Repository Results | ARCore Repository Results |
| 2021 | 4,504 | 1,874 |
| 2022 | 4,962 | 2,204 |
| 2023 | 5,210 | 2,355 |
AR Development For iOS Devices: ARKit 5 and ARKit 6
Location Anchors
Location anchors allow developers to affix virtual objects in the real world by using geographic coordinates. For example, location anchors could display a three-dimensional icon or text in space next to an iconic building. Since location anchors are dependent on Apple Maps data, this means that if the city is not supported by Apple Maps, functionality for location anchors may be limited.

One of the most groundbreaking elements of location anchors is how location is approximated. GPS is simply not precise enough to provide location anchors on a user's screen. To assist, developers can look around with their camera to allow the device to scan for features on buildings around them. By using these architectural features in conjunction with Apple Maps Look Around data, a user's location can be better approximated for location anchors.
This feature is extremely useful for building AR outdoor navigation solutions as well as AR apps for tourism and retail.
LiDAR and DEPTH API
Depth API is another valuable feature of ARKit 4 which continues to play an important role in ARKit 5 and ARKit 6. It utilizes one of the most powerful hardware features for AR on a mobile device, the LiDAR scanner on the iPad Pro and Phone 12 Pro, 12 Pro Max, 13 Pro, 13 Pro Max and 14 Pro smartphones. This enables much better analysis of scenes and allows for real-world objects to occlude virtual objects with much better accuracy.
LiDAR is used not only for augmented reality projects but for other areas where surface scanning is required. Lidar allows you to more accurately recognize surfaces both vertically and horizontally, and scan complex surfaces. However, its capabilities aren't limitless. For example, it cannot scan behind objects, it only scans in a straight line, and to scan an object from all sides, you have to go around it. LiDAR can also work incorrectly with highly reflective shiny surfaces like glass or a mirror.
Android devices have an analog of LiDAR – ToF sensor, but on a very small number of devices.
Raycasting API
Apple's Raycasting API enables enhanced object placement in conjunction with depth data. This allows much more accurate placement of virtual objects on a variety of surfaces while taking into account their curvature and angle. For example, it's possible to use this to place an object on the side of a wall or along the curves of a sofa rather than simply flat on the floor. 
ARKit 6 Updates
ARKit 6 brought several new features to improve AR experiences on iOS devices. These include better motion capture, improvements to camera access, and additional locations for Location Anchors. They also included Plane Anchors, a feature that allows tracking flat surfaces like tables. This makes it easier for those surfaces to be moved without disrupting the AR experience. 
RoomPlan
A relatively new, cool feature of ARKit is the RoomPlan framework. RoomPlan allows you to get a 3D plan of a room in a matter of seconds using the iPad LiDAR scanner and AI processing of the received data. The quality of the output depends on the quality of the sensor and the type of surface. 
With RoomPlan you can output room scans in USD or USDZ file formats. These include the dimensions of the room and the items contained in the room, such as furniture. These file formats can then be imported into other software for further processing and development. RoomPlan significantly accelerates and shortens the development of solutions such as AR measurement applications.
As part of our ARKit research here at MobiDev, we tested using ARKit for gaze tracking. This opens up a number of possibilities for iOS, such as eye-based gestures, vision-based website heatmap analytics, and preventing distracted or drowsy driving. 
This is just one of many cases from our portfolio. You can check out more of our AR demos here.
AR Development For Android Devices: ARCore
In an effort to stay competitive, Google has pushed ARCore far to remain one of the most versatile AR development platforms in the world. Let's explore some of the features that are used by developers.
Cloud Anchors
This tool allows users to place virtual objects in physical space that can be viewed by other users on their own devices. Google has made sure that Cloud Anchors can be seen by users on iOS devices as well.

On the Android side, ARCore is introducing new features to match ARKit's advances. ARCore v1.33.0 introduces new Cloud Anchors endpoints and terrain anchors. These both improve the geographic anchoring of virtual objects. Last year, Google introduced ARCore Geospatial API, which, similar to ARKit Location Anchors, utilizes data from mapping databases. In this case, Google Earth and Street View image data is used to identify the user's geographic location and display virtual objects in those locations accurately.

The following MobiDev demo demonstrates how ARCore object detection features for a virtual user manual work.
AR Faces
ARCore enables developers to work with high-quality facial renderings by generating a 468-point 3D model. Masks and filters can be applied after the user's face is identified. This is one of the most popular use cases for AR app features. AR faces help in building solutions like virtual cosmetics and accessory try-ons for eCommerce. 
AR Images
AR business cards and advertising posters are just a few of the applications that are possible with augmented reality images. 2D markers can be used to implement these features, as well as more advanced solutions like AR indoor navigation.

We have tested ARCore with indoor navigation solutions at MobiDev. Over the past several years, applications like indoor positioning have gotten even easier since our first experiments, making this technology more feasible for use in the real world. Check out this video to learn more about it.
Whichever platform you develop AR apps for, remember to test for mobile accessibility to ensure that a wider range of people can use your solution with a satisfactory experience.
ARKit vs ARCore Features Comparison
These two frameworks for Android and iOS respectively, are nearly identical when viewed from a features perspective. However, the real difference between these two devices is hardware consistency. Apple iPhone and iPad devices are largely more consistent when it comes to the behavior and capability of their hardware. 
Meanwhile, Android devices are built by a number of different manufacturers with different specifications. That is, they have greater fragmentation, and besides, not all models support AR. Because of this, it becomes more difficult to deliver a consistent experience across many different Android devices. In our experience, customers prefer ARKit development with the prospect of expanding to Android in the future.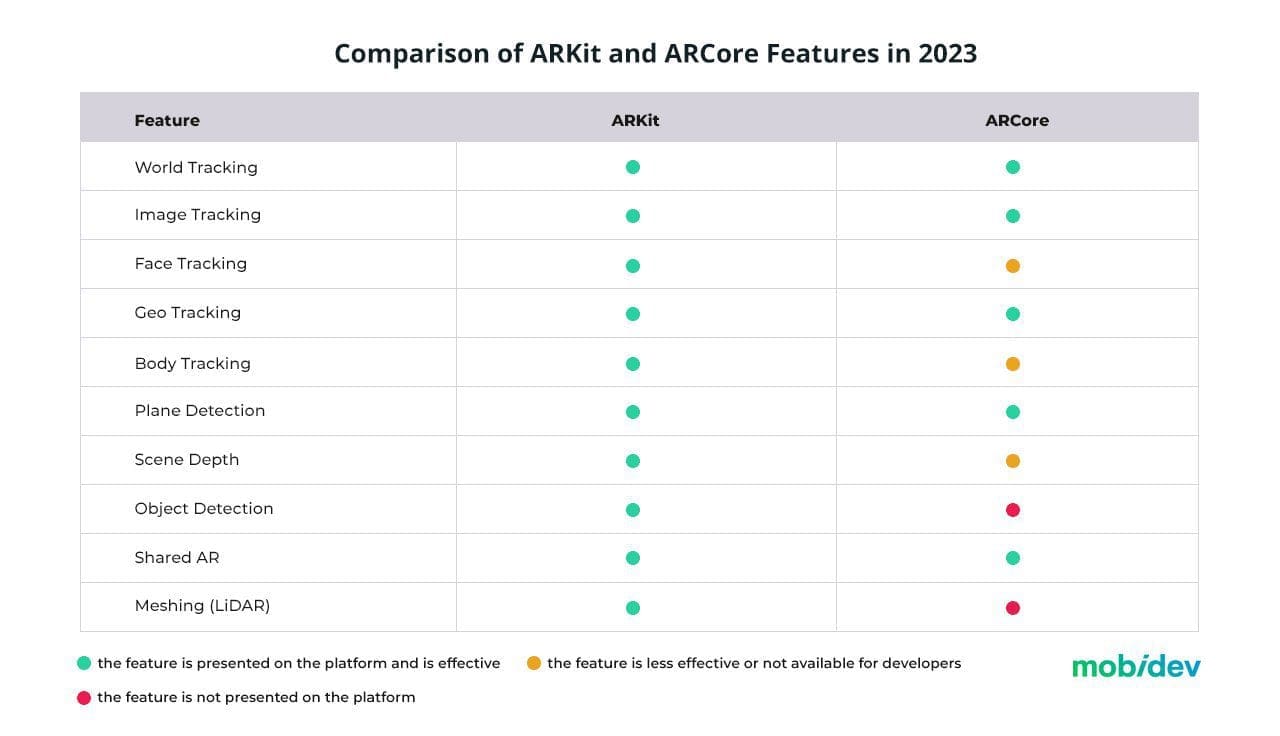 Given the limitations of Android hardware, it's important to keep in mind how powerful your AR experience will be and what devices it should be running on. Should it primarily be running on the latest and greatest Samsung and Pixel devices with high-performance AR features, or should it be less intensive to run on more devices? The choice is yours, but experienced AR developers are always there to help you find the best solution. 
Cross-Platform Mobile AR Development in Unity
If utilizing the full power of native AR frameworks on Android and iOS isn't necessary and if your goal is faster time to market, cross-platform AR development in Unity may be a good option. Unity AR Foundation is a helpful framework for cross-platform augmented reality app development. It supports Plane detection, Anchors, Light estimation, 2D image tracking, 3D object tracking, body tracking, Occlusion, and more.

However, there are some missing features depending on the platform you're on. For example, Unity AR Foundation has limitations with some features for ARCore at the moment, such as 3D object tracking, meshing, 2D & 3D body tracking, collaborative participants, and human segmentation. If you want your app to be cross-platform, you'll have to keep these missing features in mind. In our experience, the best practice for developing AR solutions is to create native applications. This allows you to provide a high-quality user experience and avoid potential pitfalls.
Web-based Augmented Reality Technologies
On one hand, web AR is an extremely accessible technology because it can run on a multitude of devices without installing any additional software. On the other hand, web AR is very limited in features and power.

Some businesses are already utilizing web AR for technologies like virtual try-on solutions. For example, Maybelline, L'Oréal, and other companies, have the option for users to virtually try on cosmetic products using their front-facing camera and web AR software.

Web AR is best implemented for simple tasks like facial recognition filters, changing the appearance or color of an object in a scene like the color of hair, replacing backgrounds for video conferencing, and more. However, it cannot provide a high level of accuracy and performance for more complex projects. It's important to remember these limitations when deciding what platform your application should run on. 
Augmented Reality Development For AR Wearables
When we talk about wearable technology for augmented reality, we typically refer to gear like Microsoft HoloLens and more portable and comfortable glasses like Google Glass.

From a software engineering standpoint, Microsoft Hololence's development is based on the Microsoft technology stack and Azure Cloud.

Check our demo that showcases the capabilities of the Microsoft HoloLens for product presentation and educational purposes.
As for AR Glasses, most of the hardware is Android-based, and manufacturers provide SDKs for engineers to create apps. There are still some substantial aspects to be considered. The first is User Experience and User Interface, as the pattern of using such software is entirely different from what we are used to with smartphones. Then, engineers must be capable of building lightweight and optimized apps, as energy consumption is still the main pain point for many devices.
AI Comes to the Rescue When AR is Not Enough
Augmented reality is an amazing technology, but sometimes the capabilities of ready-made AR frameworks are not enough, especially if we are talking about complex innovative solutions. This is where artificial intelligence algorithms come to the rescue. AI is used in one way or another under the hood of many features of AR tools. For example, ARKit's RoomPlan applies machine learning algorithms for object detection and scene understanding. But if ready-made features still cannot provide the desired result, there is always a chance that the implementation of custom AI can change it for your project.
What AI can provide for AR projects:

improved object detection, object recognition, and image tracking

collecting more data about the environment for an improved AR experience

improved accuracy of measuring distance and objects
For example, standard AR libraries have limited capabilities to create a solution like a virtual fitting room or virtual try-on (poor identification of body parts, rendering issues, etc.). Therefore, this requires the development of a custom human pose estimation model that could detect any key points in real time if the processed image contains only part of the body.
Check out our Wi-Fi router diagnostics demo as an example of using a combination of AI and AR technologies.
As MobiDev has in-house AI labs, our expertise allows us to cover such complex projects that require a combination of AR and AI. We can use ready-made artificial intelligence tools or create our own models that will allow you to bring your innovative solution to life.
Where to Start Building AR Applications
The development of any software product begins with the definition of business goals. Only when you clearly understand what results you want to achieve, can a development team help to create a workflow for you that meets your business needs. Traditionally, the process of creating an AR-powered product consists of 5 steps.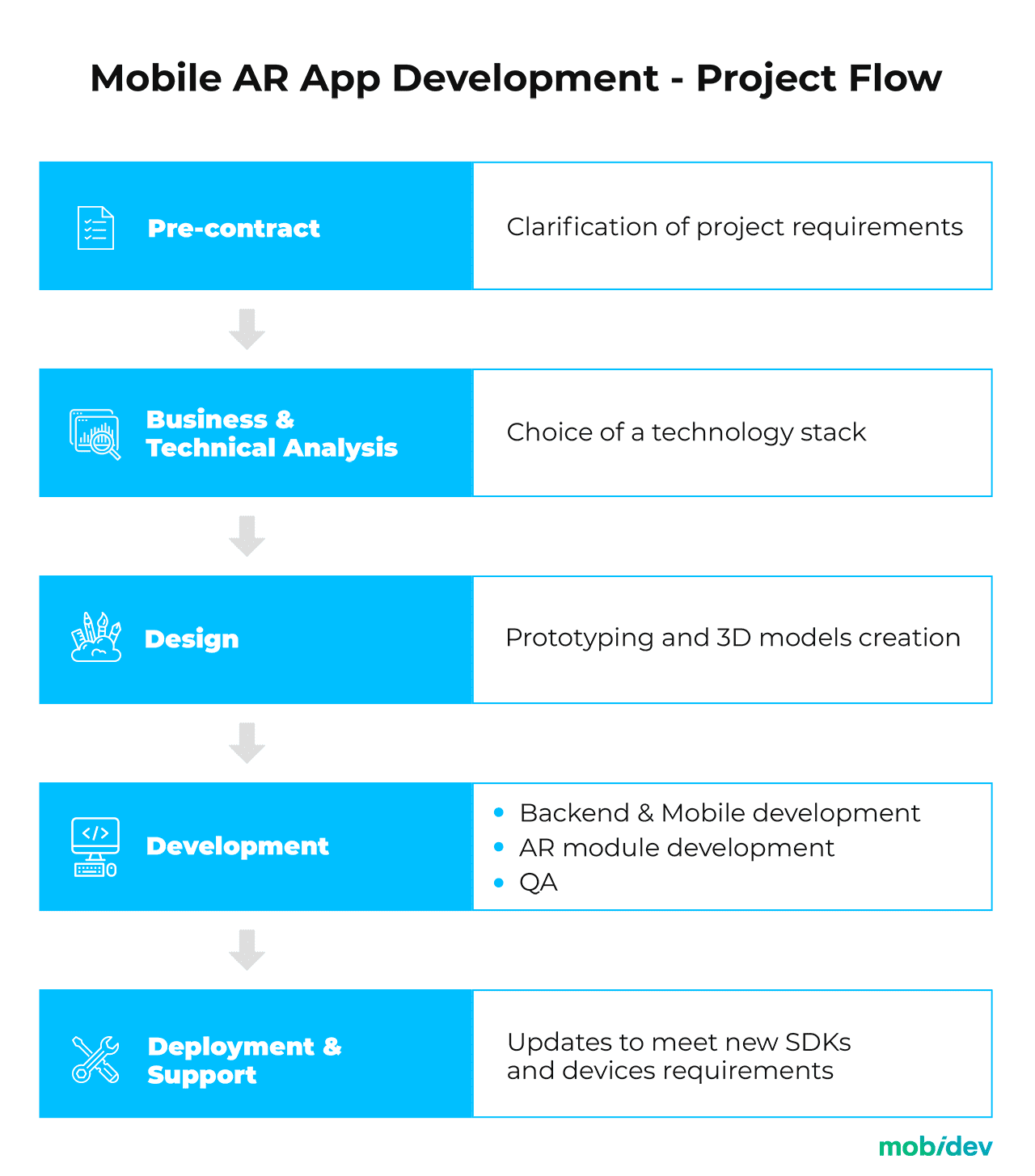 The process of building an augmented reality mobile app starts with the pre-contract phase. It's important for you to discuss the project requirements with developers so that everyone is on the same page about the project's objectives and scope. It also allows back-and-forth feedback between developers and the business to help them clarify the idea and choose the best possible route to success.

Following this, choosing a technology stack is the next logical step. This is essential for business and technical analysis, as it will decide what platform is the best to use and how the project will be built. Moreover, engineers have to come up with a clear vision of how they plan to achieve targeted results, as bringing AR to a product often has hidden pitfalls to be considered. 

After that, prototypes and 3D models are created. Once this is done, more thorough development begins. This involves backend & mobile features, AR modules, and QA. Also, there are a number of different challenges with testing AR features that should be taken into consideration. For example, it requires testing different physical objects, in different scenes, under different lighting to make sure that your app provides a consistent user experience.

Finally, the app is finalized for deployment. The deployment will involve a shift from development to support. The app needs to be updated and supported to be compatible with new SDKs and new device requirements. 
Making The Magic Happen
Businesses with experience in AR applications have a head start on achieving their goals. However, businesses that don't have internal augmented reality development teams may find it challenging to achieve their vision without help from experienced augmented reality development professionals. Enlisting the help of experienced  AR developers is a great way to build your product and get a return on your investment. 
How MobiDev Can Help You
Our team of augmented reality app developers is no strangers to challenges. MobiDev has experience with developing applications for a number of different solutions across various industries. With over 400+ experts, 13 years of experience, and more than 450 projects in our portfolio, we're more than capable of working with you to achieve your goals.

Having extensive experience with innovative technologies, our augmented reality developers know how to overcome the limits of existing AR frameworks to create more effective solutions. Combining AR with advanced artificial intelligence and machine learning algorithms can help you provide more accurate and realistic AR experiences, improve app performance and increase customer satisfaction.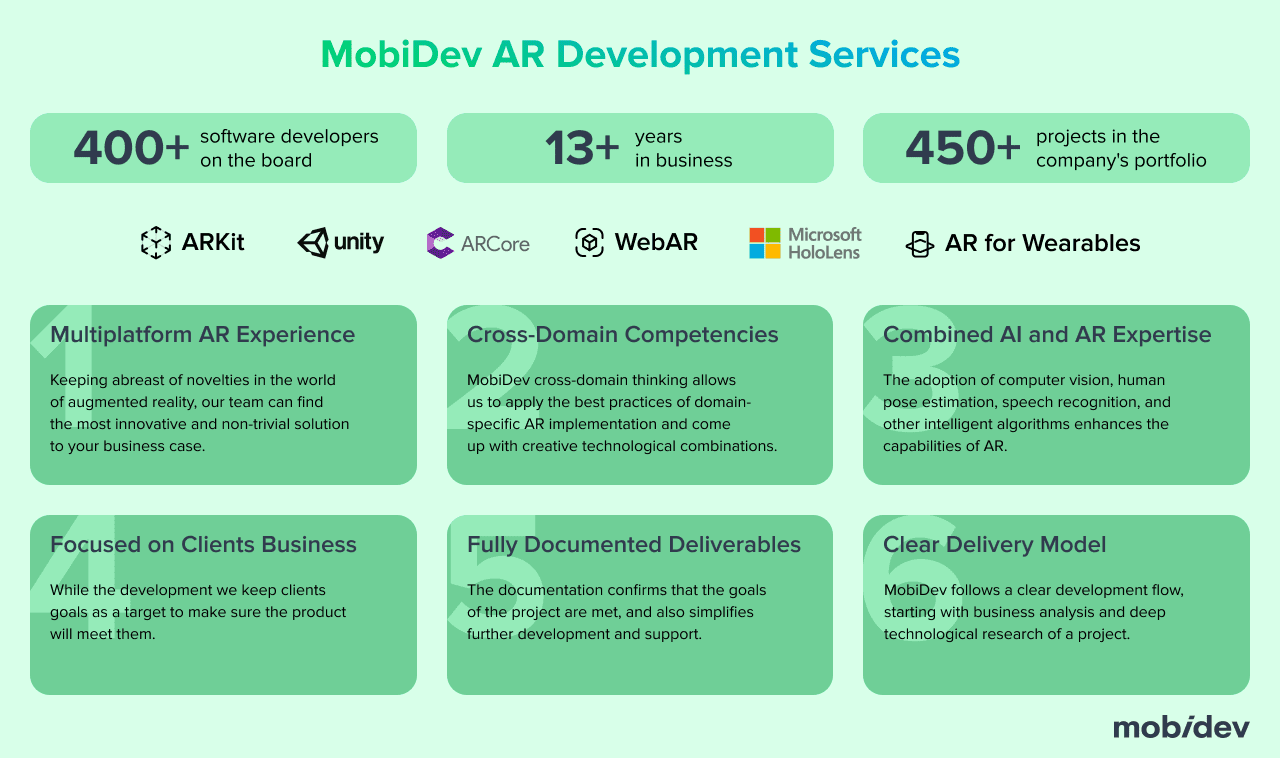 If you're ready to start a project, feel free to reach out to us so we can talk about how we can achieve your vision.