Augmented Reality Demo Collection by MobiDev
The practical applications of augmented reality have been repeatedly demonstrated across various domains, including but not limited to, customer support in shared AR spaces, indoor navigation, and innovative ways of promoting brand awareness.

Here's our take on the practical side of Augmented Reality: all of our video demos gathered for you in a single post. Our team can further develop these ideas in your own software projects.
AR Product Demos for Innovative Projects
The MobiDev augmented reality team, as always, is at the forefront of innovation, continuously mastering AR development. Our engineers continue to improve their skills and challenge themselves with new research and tools. This enables them to find new ways to meet growing market demand and provide proven solutions for our clients.
Below, you will find our augmented reality video demos for the following uses:
Demo #1: AR for indoor navigation
Wouldn't it be great if people had handy apps that would help them find the optimal routes in shopping malls, large offices, factories, hospitals, and airports? This would improve the experience of your customers and reduce the burden on your employees. Here's a demo that shows how we can achieve this with augmented reality.
Learn more about this demo >>>
Demo #2: Remote assistance via shared AR & WebRTC
Is your business goal to make tech support way easier and faster? Take a real-time call and enhance it with the capabilities of augmented reality to visualize things in 3D space. Check our demo to see how it's made possible with shared augmented reality and peer-to-peer WebRTC connection.
Learn more about this demo >>>
Demo #3: Virtual user manual
Educate your customers on the functionality of your products or services in a more engaging and captivating way. With virtual AR manuals, they can simply point their smartphone camera at an object to see how it works. 
For the demo, we chose a simple example with a coffee machine to show how it can be implemented.  But this technology can handle the complexity of factory equipment, car dashboards, medical equipment, etc. Check it out!
Learn more about this demo >>>
Demo #4: Augmented reality for marketing and brand promotion
Using augmented reality, you can effectively engage your customers by providing them with an interactive and personalized experience that showcases your products and services. For instance, our demo represents augmented reality business cards that allow you to make a phone call, write an email, and show links to social accounts.
Learn more about this demo >>>
Demo #5: AR-based corporate campus navigation
Large companies with sprawling campuses and hundreds of employees often face the challenge of indoor navigation. Marker-based AR can become a great solution for this case allowing users to find the shortcut to the specific room they need. Check this demo to see how it works!
Learn more about this demo >>>
Demo #6: Microsoft HoloLens demo for product presentation
Our expertise is not limited to mobile AR alone, as we also keep up-to-date with the latest advancements in headsets. This allowed us to explore the exciting possibilities of Microsoft HoloLens for product presentation and educational purposes shown in this demo.
Learn more about this demo >>>
Demo #7: AR for Onboarding and Troubleshooting: Wi-Fi Router Diagnostics Demo
Using a combination of AR and AI technologies not only allows you to provide users with instructions on how to utilize a product but they also allow users to diagnose current troubles and automatically provide recommendations for solving them.
Learn more about this demo >>>
Turn an Augmented Reality Demo App into a Real Product
We hope these demos have given you valuable insights into how you can apply augmented reality to your business. However, AR use cases are not limited to those mentioned above. If you have your own vision for your AR project and are looking for experienced AR developers to bring it to life, we will be happy to assist you on this journey.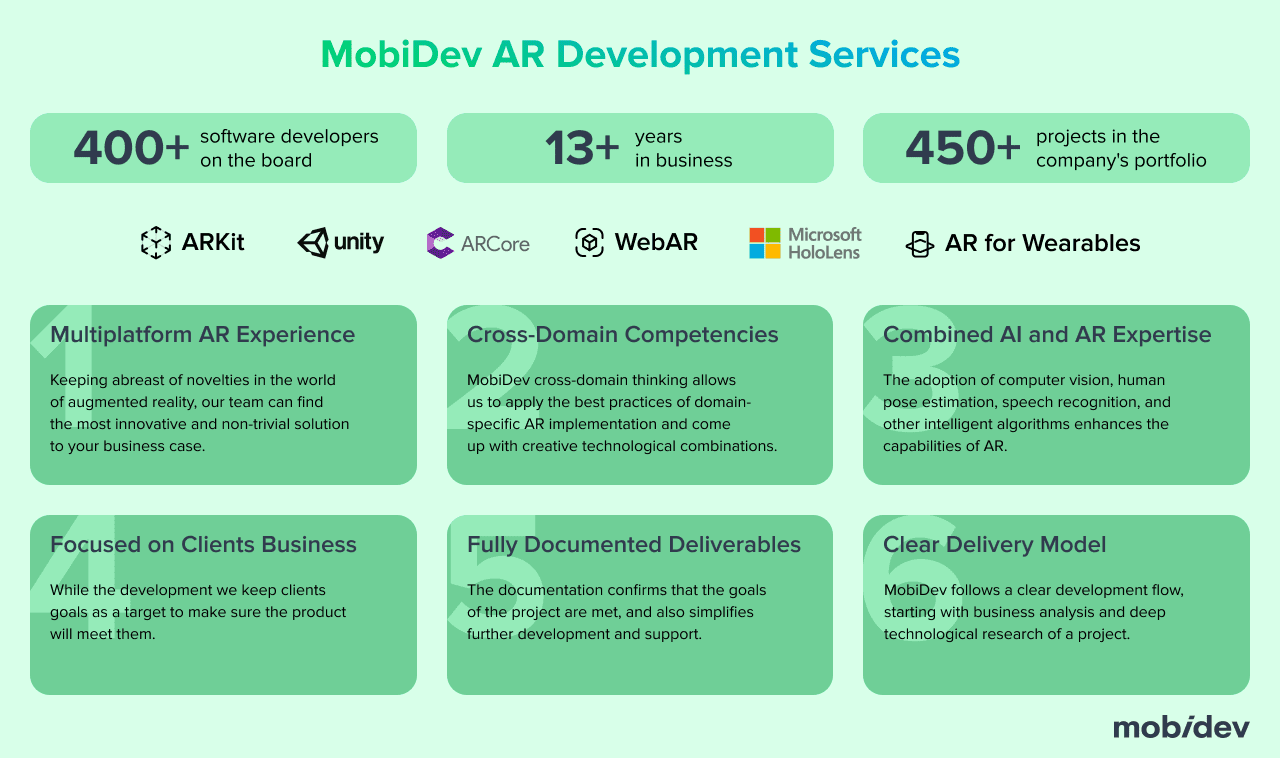 If you have any further questions, just contact us, and we won't keep you waiting. Our rich expertise in software development is always at your service.