ARCore-based Indoor Navigation: Video Demo
Indoor navigation based on Augmented Reality is yet another use case that puts innovation to daily practice. While mapping services like those of Apple and Google perfectly cover outdoor navigation in cities, routing inside larger buildings—e.g. offices, malls, and airports—remains a relevant problem.
This demo showcases a possible solution, which does not involve disturbing other people and asking them for directions. All it takes is to scan a special information plate, located at an entrance to the required building, select a destination, and get the correct route shown with arrows in augmented reality. Check the video to see how it works.
This particular case involves Android OS and ARCore, its primary augmented reality app development platform. It scans the info plate with Augmented Images; thus the location of the user is pinpointed. After that, ARCore constructs the optimal route to the destination specified by the user and displays it. For iOS, the same algorithm can be implemented with a similar platform called ARKit—you may check our ARKit-based demo that deals with on-campus navigation.
Full Research Article On AR Indoor Navigation
As you could see in the video, similar indoor navigation tools can be created for a diversity of places where there's a need to optimize the flow and increase staff productivity, e.g. shopping malls, large offices, factories, hospitals, and airports.
This idea could be developed further with any additional functionality that the employees or visitors of a specific building might require, such as access restriction or provision of information by means of AR.
Augmented Reality Development Guide For Business Owners
For more video demos, check our Augmented Reality Demo Collection.
Why Choose MobiDev for AR App Development
If you're ready to make your idea a reality, our augmented reality developers can help you find the solutions you need to gain an edge in the market.
Having an extensive experience with innovative technologies, our augmented reality developers know how to overcome the limits of existing AR frameworks to create more effective solutions. Combining AR with advanced artificial intelligence and machine learning algorithms can help you provide more accurate and realistic AR experiences, improve app performance and increase customer satisfaction.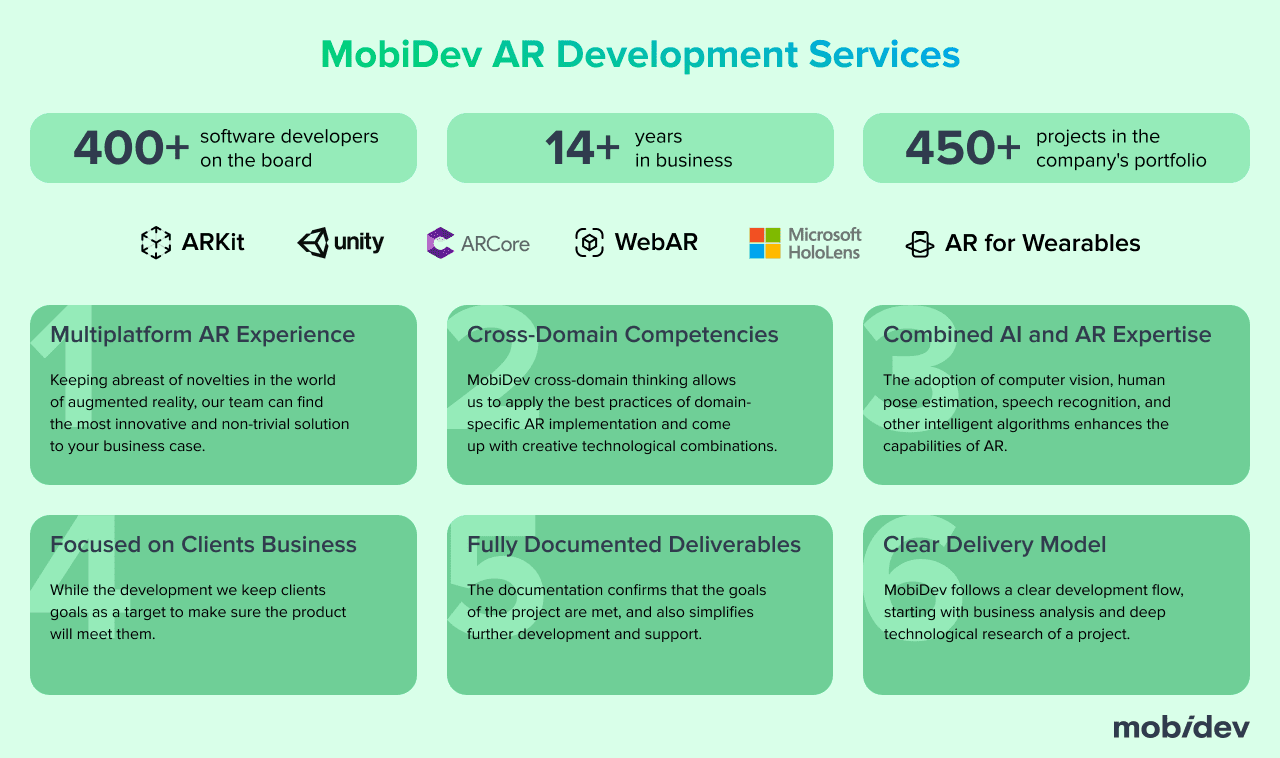 Please don't hesitate to contact us if you are looking for an augmented reality development company that leverages the latest advances in technology!