Augmented Reality For Corporate Campus Navigation: Video Demo
Augmented Reality developers continuously reveal new potential AR use cases for practical purposes. Our today's demo is the second one to elaborate on the concept of indoor navigation on campus, this time with the help of Apple's ARKit. First and foremost, this may be of interest to modern companies with large premises and hundreds of employees, who need a convenient tool to find the shortcut to the room where an urgent meeting is about to begin.
How do they find it? Well, they just scan a special marker located in the required building, select their destination, and get the route on their smartphone screen — simple as that. Check the video to see how it works!
How is it implemented? First off, we divide large buildings into specific areas, whose plans are stored on the back end together with the coordinates of the abovementioned markers (a.k.a. Reference Images) and a full list of destinations. As GPS or beacons get approximate coordinates, the app receives AR markers to determine user location in a more precise way. Then, as the user selects their destination, the app calculates and displays the route in augmented reality. As the user walks on towards the destination, the app gets further markers for new areas and updates the precise user location. That's how it's impossible to get lost, however large or complex the campus is.
Full Research Article On AR Indoor Navigation
Just like it works for iOS with ARKit, it will work for Android with ARCore. Feel free to contact us with any questions regarding this demo or relating to other spheres of Augmented Reality app development. Our team is always ready to help you and apply modern technologies in your own business solutions.
Augmented Reality Development Guide For Business Owners
For more video demos, check our Augmented Reality Demo Collection.
Why Choose MobiDev for AR App Development
If you're ready to make your idea a reality, our augmented reality developers can help you find the solutions you need to gain an edge in the market.
Having an extensive experience with innovative technologies, our augmented reality developers know how to overcome the limits of existing AR frameworks to create more effective solutions. Combining AR with advanced artificial intelligence and machine learning algorithms can help you provide more accurate and realistic AR experiences, improve app performance and increase customer satisfaction.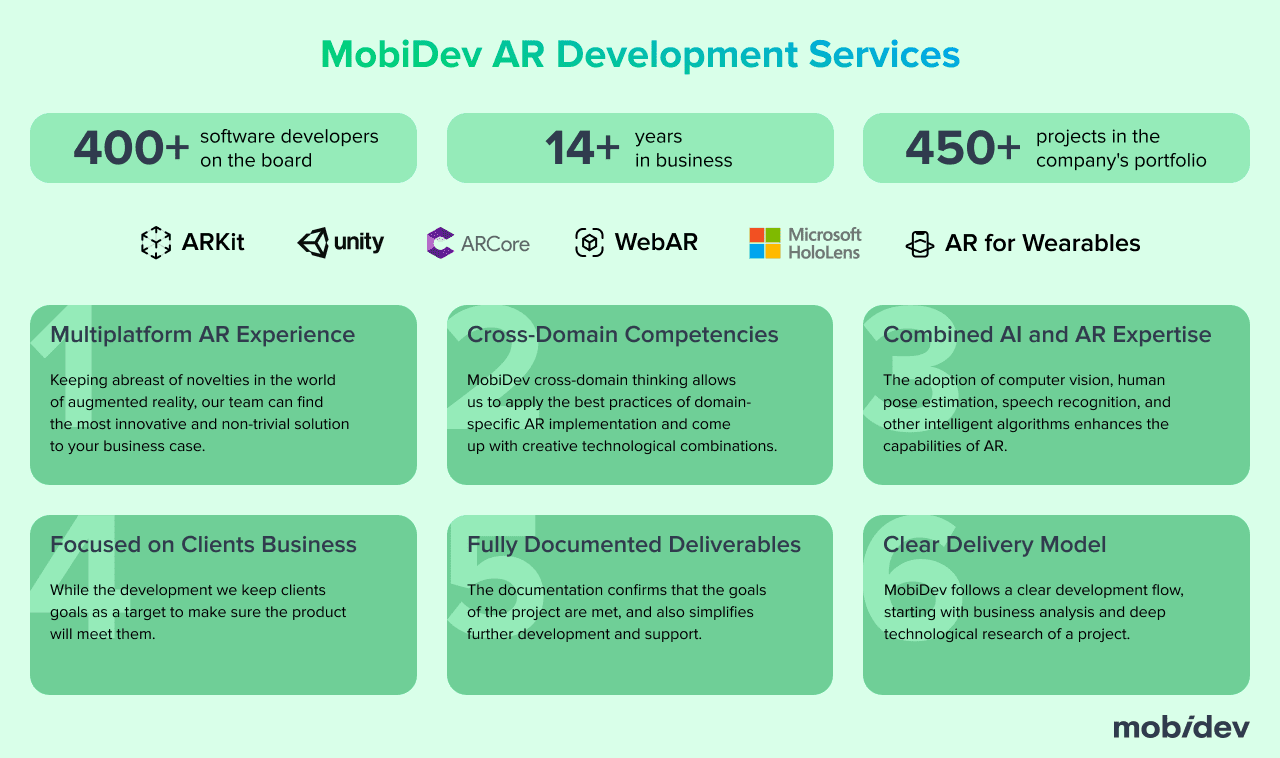 Rely on our cross-domain multi-platform AR expertise to create an exciting solution that brings real value to your business. Can't wait to hear about your project idea!