Augmented Reality Business Cards Demo: Use AR For Brand Promotion & Advertising
One of the most engaging ways to deliver authentic and personal experiences to customers has always been through developing augmented reality apps. When users are approached with a unique and immersive experience, they are more likely to remember it. One way that businesses can achieve this is through business cards powered by augmented reality. 
To demonstrate the potential of this technique, we developed an AR business card of our own. This demo isn't a fully-fledged product, though. It's meant to demonstrate the potential of augmented reality business cards and give business leaders some ideas on how to implement the solution. Let's talk about how it works and how this technology could benefit your brand. 
How to Create an Augmented Reality Business Card
Our demo utilizes the ARKit image tracking feature introduced in iOS 12. This feature enables images on physical objects to be tracked and paired with virtual experiences. This way we can display AR objects on top of and around the business card for marketing. 
The experience in our demo is initiated by an AR tracking marker. The marker has to be unique in order for the application to recognize it and begin the experience. In our case, the business card itself acts as the marker for the experience, allowing the app to add the content associated with it.
Content can be managed in various ways. For example, we can embed the content into the application. But this works only if you don't plan to change it later. If you need more flexibility, we can create a backend and admin panel to help you manage your content easily. 
In addition to business cards, this technology can be used in a few different ways. For example, you can create a virtual menu for a restaurant, a virtual user manual, an interactive sales brochure, a portfolio, a gift card, etc. However, this is not a complete list of AR opportunities for sales and marketing.
Benefits of AR Business Cards for Brand Promotion
There are a number of benefits that come from using AR business cards. For example:

Increased customer engagement

: AR provides more interactive and immersive experiences.



Greater emotional attachment

: AR experiences are more memorable.



Improved purchasing process

: customers can get immersive experiences quickly and on the go. This can shorten the sales cycle, leading customers to make purchases faster.



Virtual assistance

: any details about your products and services can be conveniently delivered right to the smartphones of your customers.

More brand opportunities: AR content is flexible and open-ended. There are more opportunities to use branded content in unique ways that may not work in 2D environments like web pages.
Why Choose MobiDev for AR App Development
When you're ready to take your brand to the next level, we'll be happy to help you. Our experienced augmented reality developers have worked in this business space for over 13 years and have more than 450 projects in our company's portfolio.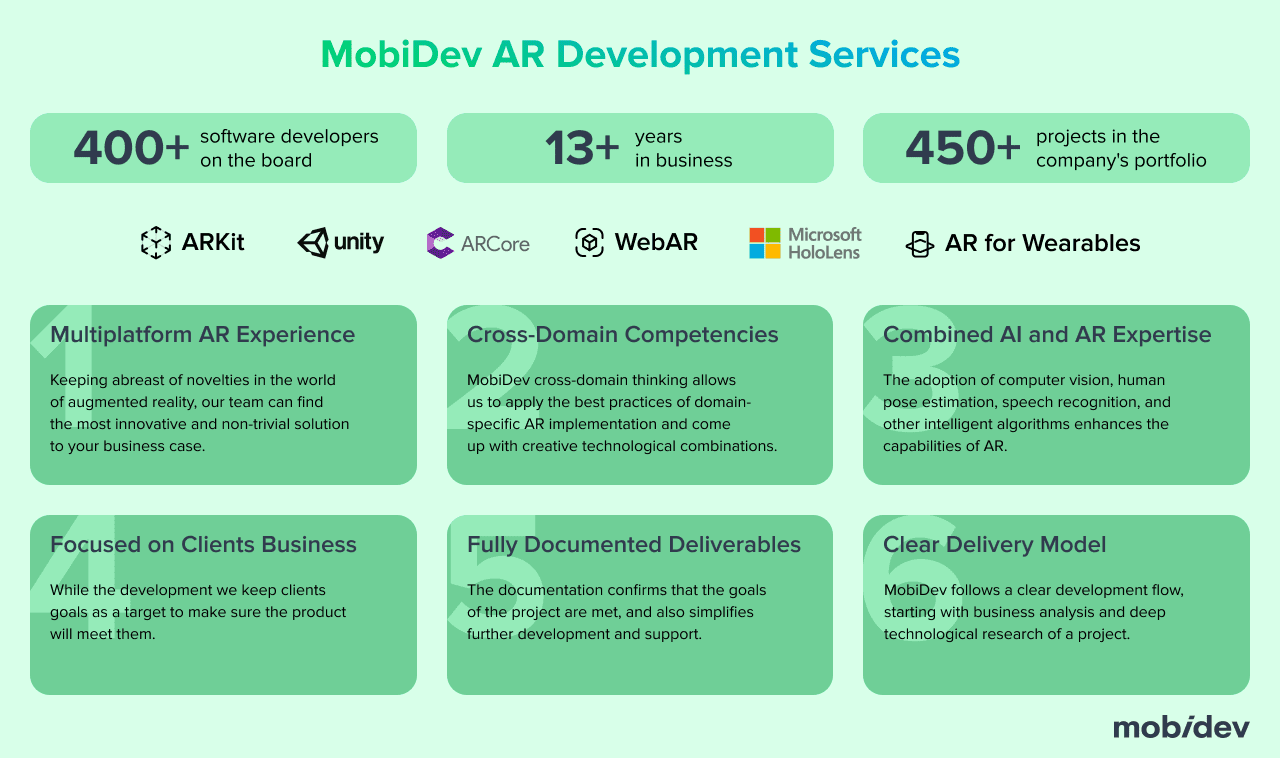 Most importantly, our team is experienced in combining AR with other complementary technologies like artificial intelligence and machine learning algorithms. These can help provide even more accurate and realistic AR experiences and improve customer satisfaction. Contact us today so we can start working together.