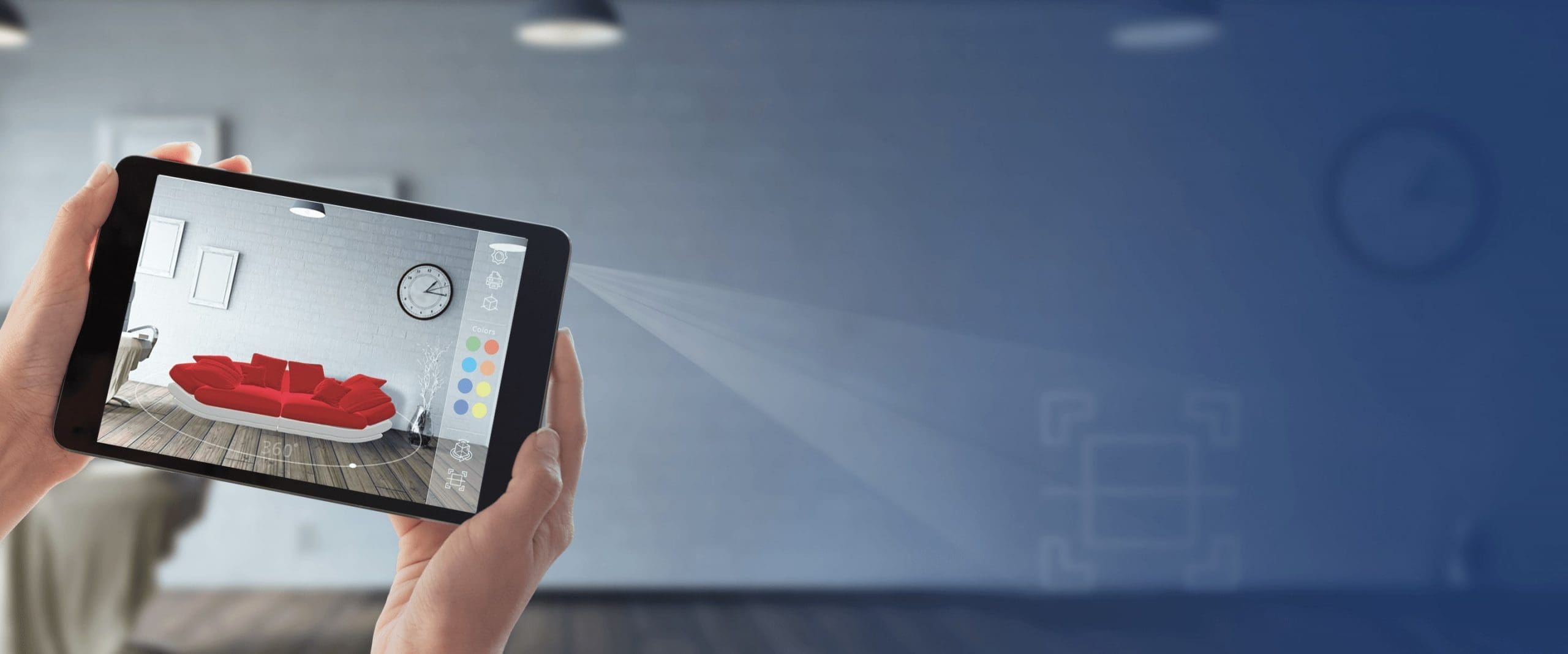 AUGMENTED REALITY COMPANY
MobiDev innovates to change the way companies do business.
AUGMENTED REALITY SERVICES DRIVE DIGITAL TRANSFORMATION
Augmented reality apps are increasingly popular with companies ranging from manufacturing enterprises to healthcare centers and retailers—with clear purposes of searching for new ways to maintain long-term market relevance.
Implementation of these AR solutions is followed by an ongoing cycle of product evolution, delivery, and integration with existing ecosystems. This is how augmented reality services will help your company enter the market early and stay at the forefront of the competition.
AUGMENTED REALITY USE CASES
AR-BASED USER MANUAL
An instruction manual with AR capabilities is applicable to many industries from consumer electronics to medical equipment and vehicles. Augmented reality companies make complex virtual manuals which help to inform users in an engaging manner.
Case Study: AR Apps Development for iOS & Android
Client: A multinational travel business with over $50 billion in revenue.
Business goals: To increase client retention through mobile applications with augmented reality.
Product:  iOS and Android apps featuring augmented reality, animation, and geolocation.
Applied technologies:
iOS: ARKit, SceneKit, GLKit, CoreMotion, Swift 4.0, VIPER architecture
Android: ARCore, SensorManager, Rajawali, Google Mobile Vision API, Java, MVP architecture
Agile management framework, UI/UX design, AR testing
Successful software development projects typically start with a company need or a problem that must be solved using technology. There are many business areas where augmented reality can be applied—and in many cases—it can be combined with other innovative technologies.
HIRE EXPERIENCED AUGMENTED REALITY DEVELOPERS
AUGMENTED REALITY DEVELOPMENT
Augmented Reality Hardware
iOS devices: Apple devices starting from iOS 11 to run ARKit.
Android devices: a limited number of devices operating on Android 7.0 and later to run ARCore.

Google Glass and Android-based devices: motion sensors, touchpad, camera, display, and other hardware sensors.
Augmented Reality SDKs
Capabilities: device position tracking; detection of surfaces, edges, and points; scene understanding; object placement; GPS navigation. Machine learning (e.g. image and object recognition) can be incorporated into AR software products.
Technologies (iOS): Swift, Xcode + ARKit, SceneKit or Metal for 3D graphics, Unity3D (C#), and Vuforia.
Technologies (Android): Java, Kotlin, Android Studio, ARCore, Unity3D (C#), Unreal Engine, Facebook AR Studio, Wikitude, Vuforia, and other SDKs.
MIXED REALITY DEVELOPMENT
Mixed Reality Hardware
Microsoft HoloLens & other Mixed Reality headsets: spatial sound, spatial mapping, gaze tracking, gesture input, voice support, motion sensors, extended connectivity, and depth scanner.
Mixed Reality SDKs
Capabilities: MR headsets can be fully independent, have rich recognition features, and can be capable of projecting high-definition virtual content or holograms over real-life objects.
Spatial mapping scans the environment in real-time, creating a mesh for an X/Y/Z coordinate plane. Objects can be projected into this mesh.
Technologies: Windows Mixed Reality, Unity3D (C#) + Microsoft Visual Studio or JetBrains Rider, Vuforia, and UWP (Universal Windows Platform)
BUSINESS CASES FOR AUGMENTED REALITY SOLUTIONS
AUGMENTED REALITY FOR MARKETING
Providing products and services to customers is more effective than ever thanks to augmented reality technology.
The emotional appeal and visual recognition capabilities of AR applications allow businesses to bring even more added value to their clients.
First introduced in ARKit 2.0 in iOS 12, image tracking, featured in the demo above, draws virtual images onto real objects. The example shown involves an augmented business card.
AUGMENTED REALITY FOR ENTERPRISES
Why is AR so popular with enterprises nowadays? It helps to raise employee productivity and operational efficiency in a variety of industries.
AR and WebRTC enable peer-to-peer communication through digital marks in a shared augmented space.
AR is applicable to many markets, including healthcare, office work, and industrial services. Consult the video resource above for more information about shared AR.