Mobidev
Q4 / 2022 Сompany Report
This MobiDev quarterly report shows the highlights of Q4, 2022 in numbers.
The fourth quarter of 2022 was busy for MobiDev teams with visiting industry expos worldwide.
The main areas of our performance can be overviewed through:
Team dynamics

Projects delivery

Business indicators

Other significant events
MobiDev Q4 / 2022 Сompany Report
MobiDev Team
At the end of the Q4 2022 MobiDev team was comprised of 422 specialists, which is 20 employees more in comparison to the corresponding period in 2021.

During Q4 2022 11 new teammates started their contracts with MobiDev.
Project Releases
Throughout Q4 2022 we've experienced a 76% decline in the number of delivered releases in comparison to Q3 2022. This is related to the New Year's sales period for some of our clients' businesses, so we were concentrating on major releases and planning the releases for 2023. The total amount on the ongoing project releases was 37.
Business Indicators
The company's revenue in Q4 decreased by 15% in comparison to Q3 this year, and by 12% in comparison to Q4 in 2021. This is mostly connected with the fact that some of our clients felt the consequences of the economic crisis and had to cut their budgets for the development activity. 

Q4 brought us

11 contracts

with new clients in comparison to the 9 contracts in the same period last year.

The deals volume was

86% larger

than during Q4 in 2021 which supports the trend according to which our new customers are entrusting MobiDev with larger contracts. 

The worldwide presence of our new clients in Q4 is: USA (4), Germany (4), Canada (1), France (1), UK (1). New projects are within Retail, Wellness / Fitness, Fintech (Insuretech) and Social & Entertainment industries. Some of them include innovative technologies like AI and AR, which is a great indicator for business: despite the crisis great new products are taking off, finding financing opportunities and are ready to grow. 

The volume of the 11 contracts with existing clients is 52% less than in Q4 2021, which points to the current budget cuts trend in many businesses.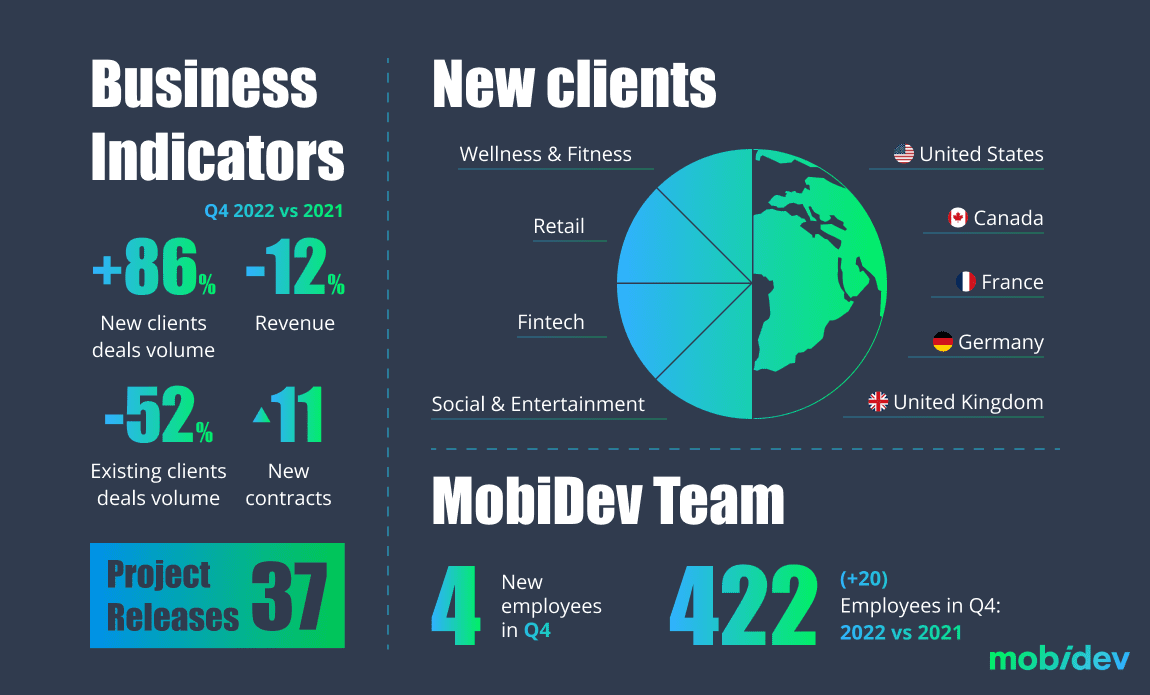 Social Responsibility
MobiDev Team has created the

Recycling Assistant

app for people who moved to Germany recently and find themselves confused about how to separate trash for recycling. The app helps users to learn how to recycle like a native and avoid fines. During Q4 the app was downloaded more than 5000 times from the

Google Store

.

Recycling Assistant became available for Poland and Czech Republic users recently. The next release is planned for the UK users. 

MobiDev is preparing the app to become a White Label product and be used by socially responsible brands to adapt local communities' recycling rules. 
Miscellaneous
In October and December MobiDev's CEO Oleg Lola got his new articles published in Forbes magazine, where he focused on the approach to turning AI ideas into successful products and ways businesses can leverage Lidar technology.
Ending this year, MobiDev representatives also attended industry events worldwide. Business and engineering team representatives have visited the following events/conferences: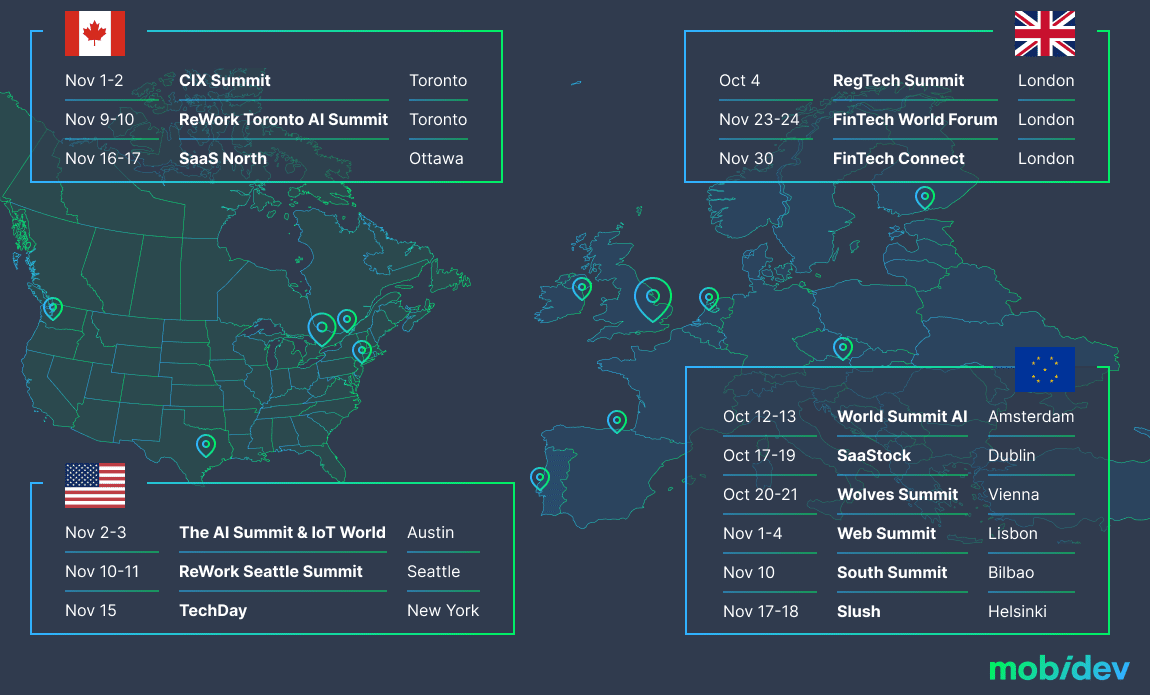 In Q1 2023 MobiDev is preparing for the following events:
2023 OurCrowd Global Investor Summit (Jerusalem, Feb 12-17)

World AI Cannes Festival (Cannes, Feb 9-11)

Wolves Summit (London, Mar 8-9)
You can book a meeting with a MobiDev representative at any of these events or anytime in New York and San Francisco (USA), Toronto (Canada), Berlin (Germany), Lodz (Poland) where our representatives or offices are located.
GENERAL INFORMATION ABOUT THE COMPANY
MobiDev is a software engineering company that has been privately held since 2009 and has business units in Atlanta (US) and Sheffield (UK), as well as R&D centers in Lodz (Poland) and Chernivtsi (Ukraine). There are over 400 engineers across these locations. The company serves US, Canadian, European and Israeli businesses, helping create and launch new software products and evolve existing ones.
MobiDev covers the entire development cycle, relying on flexible approaches. Provided services typically consist of:
➤ Business analysis, requirement clarification, and technical evaluation
➤ UI/UX prototyping and design
➤ Data preparation and AI models training
➤ Engineering and infrastructure deployment
➤ Quality assurance and security checks
➤ Product deploying and post-production support
The company's main areas of expertise are:
➤ Artificial Intelligence, Data Science & Machine Learning
➤ IoT & Augmented Reality
➤ Web & cloud infrastructure
➤ Native mobile & desktop development
➤ Cross-platform solutions
MobiDev brings three main pillars to the development process. First, we provide expertise based on previous experience and constant exploration of new technologies. Also, "understanding goals" for us is ahead of "bringing solutions". And most importantly, we do care about the product and the result. These principles unite our teammates and form the basis of all products we create for our clients – this is how MobiDev achieves excellent results and has a 100% success rate on Upwork.
Other reports