Mobidev
Q1 / 2022 Сompany Report
This MobiDev quarterly report shows the highlights of Q1, 2022 in numbers.
As a company, we monitor and analyze the results in several areas of our performance:
Team stability and results of hiring
Current projects delivery
Business indicators
Other events that influence company performance
MobiDev Q1 / 2022 Сompany Report
MobiDev team growth
1. Compared to Q1, 2021, hiring speed grew by 209%. During Q1, 2022 we hired 65 new employees, with the record in March when 32 colleagues joined our teams. We attribute this great result both to the hard work of our recruiting team, and the work of MobiDev mentors who supervised and led our internships.
2. Talking about team stability and continuity, 24 team members left the company, 2 of which are away temporarily due to maternity leave. This number includes 3 people who moved to Russia-controlled territories, with whom we terminated cooperation in March. The overall number is 50% higher than the corresponding number last year.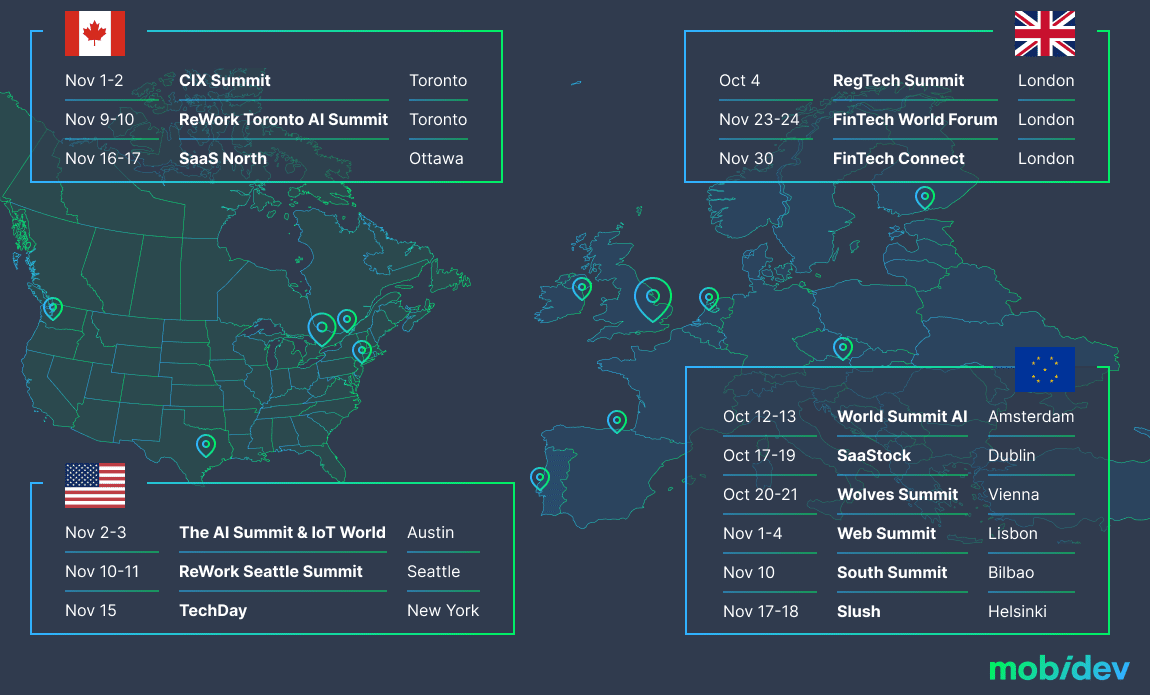 3. As a result, during Q1, 2022 the MobiDev team grew by 27 employees (in Q1, 2021 the overall team growth was 25 people). Attrition numbers are pretty high in Q1, 2022, but taking into account the increased employee quantity (+24.9% during the last 12 months), it stays within the expected trend's upper margins. Strong hiring performance provided better absolute growth numbers compared to Q1, 2021.
Released Projects
Throughout Q1 we've made 64 releases on our ongoing projects. Half of them – 32 – took place in March. Comparing to 14 in February and 18 in January, we call March a win.🙂
Key Business Indicators
1. The company showed financial growth previously and is showing stable financial growth in Q1, 2022. The operating revenue grew by 13% compared to the same period last year.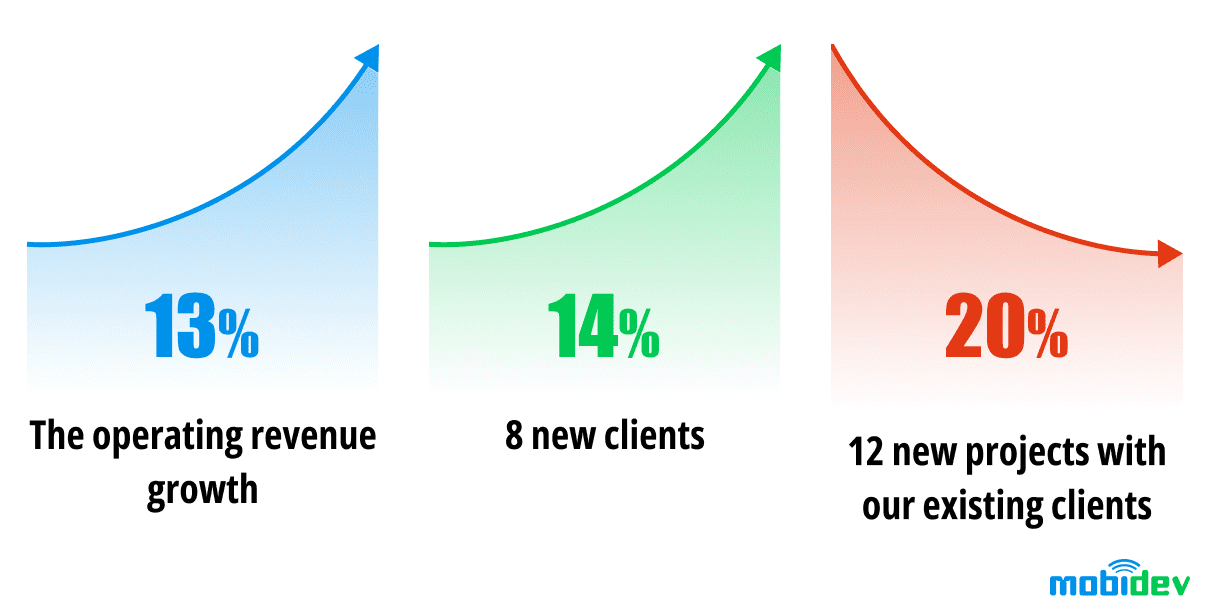 2. During this period we've gained 8 new clients, which is a 14% increase compared to the same period last year and started 12 new projects with our existing clients, which is 20% less than last year.
Miscellaneous
On March 21st we physically opened MobiDev's R&D and Business Development center in Lodz, Poland. This enabled us to establish a new business unit and boost the engineering hiring processes in the EU.
MobiDev actively participates in international IT events. Our Business team has already attended the following events/conferences:
EU-Startups Summit 2022 (Barcelona, May 12-13);
World AI Cannes Festival (Cannes, April 14-16);
MWC Barcelona (online, February 28 – March 3);
Axis Innovation Israel (online, March 29);
B2B Expo & Conference for e-commerce service providers (Berlin, May 5).
In the upcoming period of Q2/Q3 MobiDev team is planning to visit the following events:
Wolves Summit (Wroclaw, May 24-27);
SaaSTR (Barcelona, June 7-8);
B2B Rocks (Montpellier, France, June 9-11);
VivaTechnology 2022 (Paris, June 15-18);
TheNextWeb (Amsterdam, June 16-17);
TechBBQ 2022 (Copenhagen, September 14-15);
World Summit AI (Amsterdam, October 12-13);
Saastock (Dublin, October 17-19);
TechDay (New York, November 15).
You can book a meeting with MobiDev's representative on any of the events.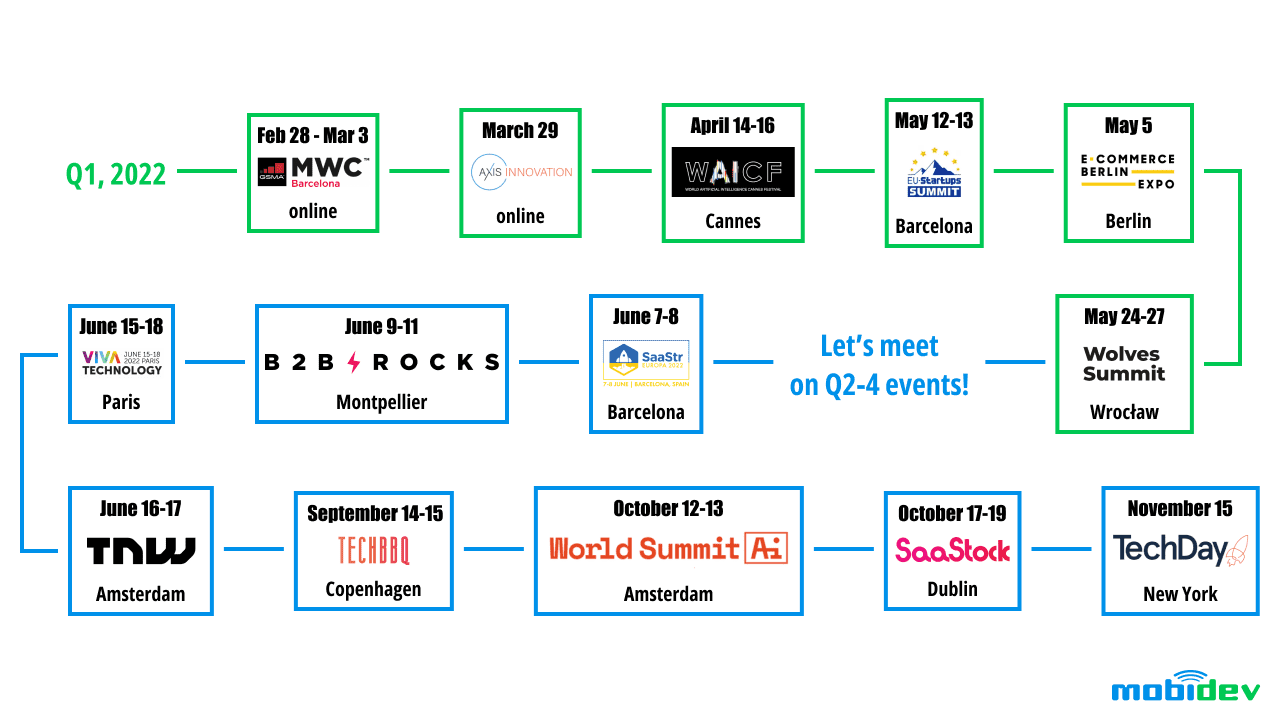 General information about the company
MobiDev is an engineering company that creates software solutions. It has been privately held since 2009 and has business units in Atlanta (US) and Sheffield (UK); and R&D centers in Lodz (Poland) and Chernivtsi (Ukraine). There are over four hundred engineers across locations. The company serves US, Canadian, European and Israeli businesses, helping create and launch new software products and evolve existing ones.
MobiDev covers the entire development cycle, relying on flexible approaches. Provided services typically consist of:
➤ Business analysis, requirement clarification, and technical evaluation
➤ UI/UX prototyping and design
➤ Data preparation and AI models training
➤ Engineering and infrastructure deployment
➤ Quality assurance and security checks
➤ Product deploying and post-production support
Company's main areas of expertise are:
➤ Artificial Intelligence, Data Science & Machine Learning
➤ IoT & Augmented Reality
➤ Web & cloud infrastructure
➤ Native mobile & desktop development
➤ Cross-platform solutions
MobiDev brings three main pillars to the development process. First, we provide expertise based on previous experience and constant exploration of new technologies. Also, "understanding goals" for us is ahead of "bringing solutions". And most importantly, we do care about the product and the result. These principles unite our teammates and form the basis of all products we create for our client – this is how MobiDev achieves excellent results and has a 100% success rate on Upwork.
Other reports