Mobidev
Q1 / 2023 Сompany Report
This MobiDev quarterly report shows the highlights of Q1 2023 in numbers.
The first quarter of 2023 was a challenging period with lots of opportunities for MobiDev team.
The main areas of our performance can be overviewed through:
Team dynamics

Projects delivery

Business indicators

Other significant events
MobiDev Q1 / 2023 Сompany Report
MobiDev Team
During Q1 2023, 4 new teammates started their contracts with MobiDev, notwithstanding the general slowdown in the recruiting process.
Project Releases
Throughout Q1 2023, we've experienced a stable growth in the number of delivered releases. The total number of  project releases reached 188, which is our new record. 
Business Indicators
Q1 brought us 9 contracts with new customers, which is 1 more than in the corresponding period of the previous year and formed a respective 23% increase in the contract amount. MobiDev team met those new clients via several main channels, the leading of which was a recommendation from our current customers. We are incredibly grateful to each and everyone who recommended our services.  

We signed 6 additional contracts with our existing clients in Q1 2023, while in the corresponding period of Q1 2022, this number was 11 contracts. We attribute this decrease to the corresponding market changes and the trend for redirecting funds to production, as well as marketing or sales activities rather than software development, especially for the cases where a software product doesn't form the core of the business.  

The company's operating revenue in Q1 grew by 1.1% compared to Q1 last year. 

Within Q1 2023, many of the new contracts we started, both with our current and new customers, were related to either PoC development or AI-researches. This confirms 2 related trends we envisioned last year: (1) AI has secured a top position as a must-have technology, (2) with the overall downward trend, startups have more strict requirements to get new investment rounds, so they tend to start with something smaller. You are welcome to read our article on

Forbes

and find some useful tips on where to start with your product idea.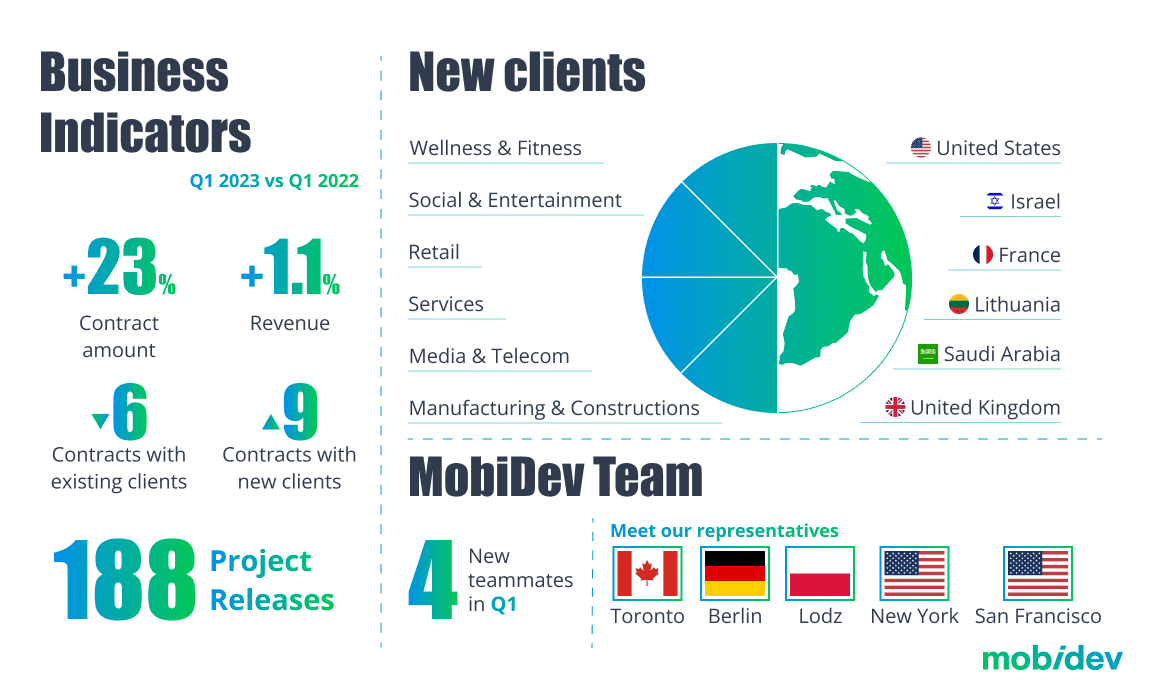 Social Responsibility
During this period MobiDev PR Team was participating in an

Open IT

Project Management event for students and switchers from Ukraine. In the upcoming period, our expert is getting ready to participate in an educational event from Kyiv National University Rex IT Fest.

In April MobiDev organized 4 charity quizzes for our teammates and raised money for donation – it has become a tradition for us to support the Armed Forces of Ukraine, charity foundations and animal shelters. 
Miscellaneous
Beginning this year, MobiDev business and engineering team members have visited the following events/conferences:
In Q2 2023, MobiDev is preparing for the following events: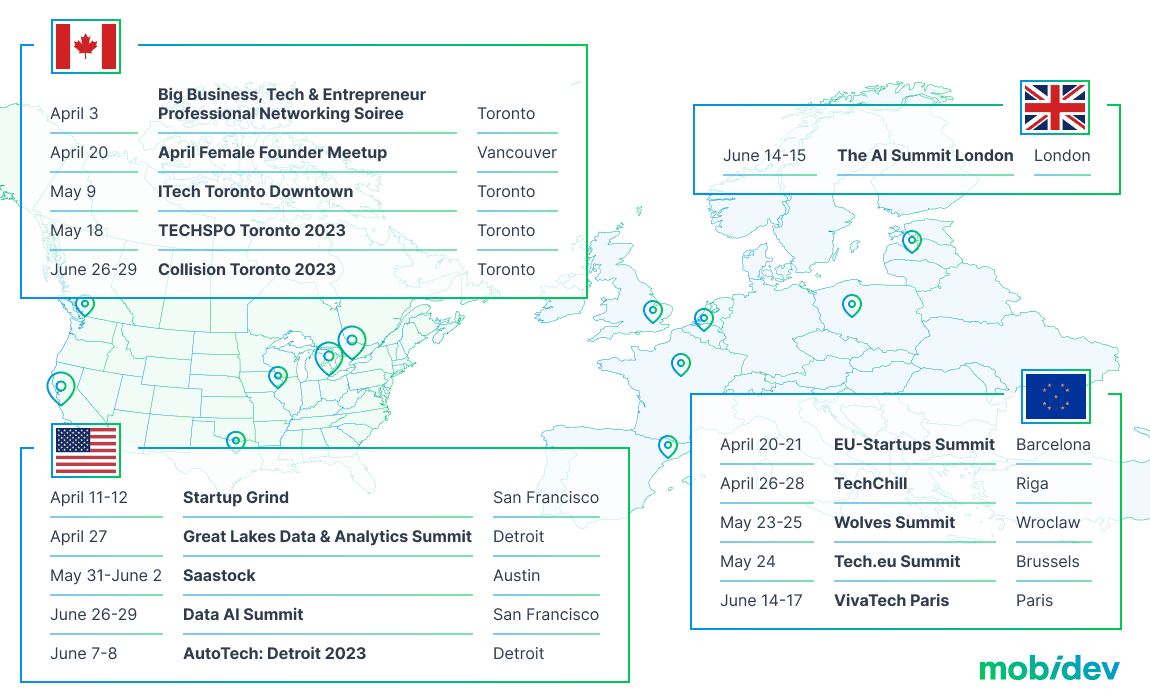 Our team in Canada is visiting such events:
You can book a meeting with a MobiDev representative at any of these events or anytime in New York and San Francisco (USA), Toronto (Canada), Berlin (Germany), and Lodz (Poland) where our representatives or offices are located.
GENERAL INFORMATION ABOUT MOBIDEV
MobiDev is a software engineering company that has been operating since 2009 and which has business units in Atlanta (USA) and Sheffield (UK) as well as R&D centers in Lodz (Poland) and Chernivtsi (Ukraine). Our teams comprise more than 400 experienced engineers, solution managers, business analysts, project managers, designers, and account managers to ensure smooth and successful delivery for our clients. We serve US, UK, Canadian, European, and Israeli businesses, helping to create new businesses or modernize and evolve existing ones.  
MobiDev experts cover the entire development lifecycle, relying on flexible approaches. These are typical services provided by our teams:
➤ AI consulting
➤ Business analysis, requirement clarification, and technical evaluation
➤ UI/UX prototyping and design
➤ Data preparation and AI models training
➤ Engineering and infrastructure deployment
➤ Quality assurance and security checks
➤ Product deployment and post-production support
The company's main areas of expertise are:
➤ Artificial Intelligence, Data Science & Machine Learning
➤ IoT & Augmented Reality
➤ Web & Cloud Infrastructure
➤ Native mobile & desktop development
➤ Cross-platform solutions
At MobiDev, we bring three main pillars to the development process. First, we provide expertise based on previous experience and constant exploration of new technologies. Second, we believe that "understanding goals" is always ahead of "bringing solutions", so we start with a clear understanding of business goals. And most importantly – we do care about both the result and the level of service we offer in the process of getting to it. These are the principles that unite our teammates and form the basis of all products we create for our clients – this is how MobiDev achieves excellent results and has a 100% success rate on Upwork.