Mobidev
Q2 / 2022 Сompany Report
This MobiDev quarterly report shows the highlights of Q2, 2022 in numbers.
In the second quarter of 2022 MobiDev's main focus was to maintain stable growth across departments and enhance the company's European presence.
The main areas of our performance can be overviewed through:
     Team dynamics

     Projects delivery

     Business indicators

     Other significant events
MobiDev Q2 / 2022 Сompany Report
MobiDev Team
During Q2 2022 we welcomed 37 new employees with the busiest period in April – 21 newcomers. 

As for the team attrition, it continues going at the upper percentile of our prognosis: 21 people left the company, due to both company-initiated and their own reasons. Out of them, 1 team member went on a sabbatical.


 At the end of Q2 2022 the MobiDev team is comprised of 447 employees in comparison to 379 employees in the corresponding period in 2021.
Project Releases
This period showed to be a productive continuation of the Q1 adding 125 releases on the ongoing projects, 53 of them took place in June.
Business Indicators
The key business indicator for MobiDev is its stable financial growth. In comparison to the same period last year, the operating revenue increased by 24%. Compared to Q1 2022, the operating revenue increased by 20%.

During Q2 we gained 9 new clients and signed new contracts with 12 existing clients, which is a 12% and 50% increase compared to Q2 last year. The increase in new contracts with our current customers is a win and shows their trust in our cooperation.
Social Responsibility
In May MobiDev held a series of free online workshops on the most popular IT professions – Project Management, QA, iOS, Machine Learning, Ruby, Marketing, Sales. With the russian invasion of Ukraine, many Ukrainians lost their jobs and were forced to master new skills. The MobiDev team shared its knowledge in the most popular domains with more than 600 participants.

Besides creating software products for our clients, MobiDev team

has launched

its own product called

Dopomoga

to help the people of Ukraine. This online service enables people who need help to get in touch with volunteers and vice versa.
Miscellaneous
In June we got

our first publication in Forbes

magazine, sharing our vision of Human Pose Estimation for Computer Vision. 

MobiDev actively participated in international IT events in Q2. Our Business team has attended the following events/conferences:
     E-commerce Berlin Expo (Berlin, May 5)

     EU-Startups Summit 2022 (Barcelona, May 12-13)

     Wolves Summit (Wroclaw, May 24-27)

     SaaSTR (Barcelona, June 7-8)

     Collision (Toronto, June 26-29)

     B2B Rocks (Montpellier, France, June 9-11)

     VivaTechnology 2022 (Paris, June 15-18)
In Q3 MobiDev is preparing for the following events, in addition to several roadshows to Denmark and the Netherlands: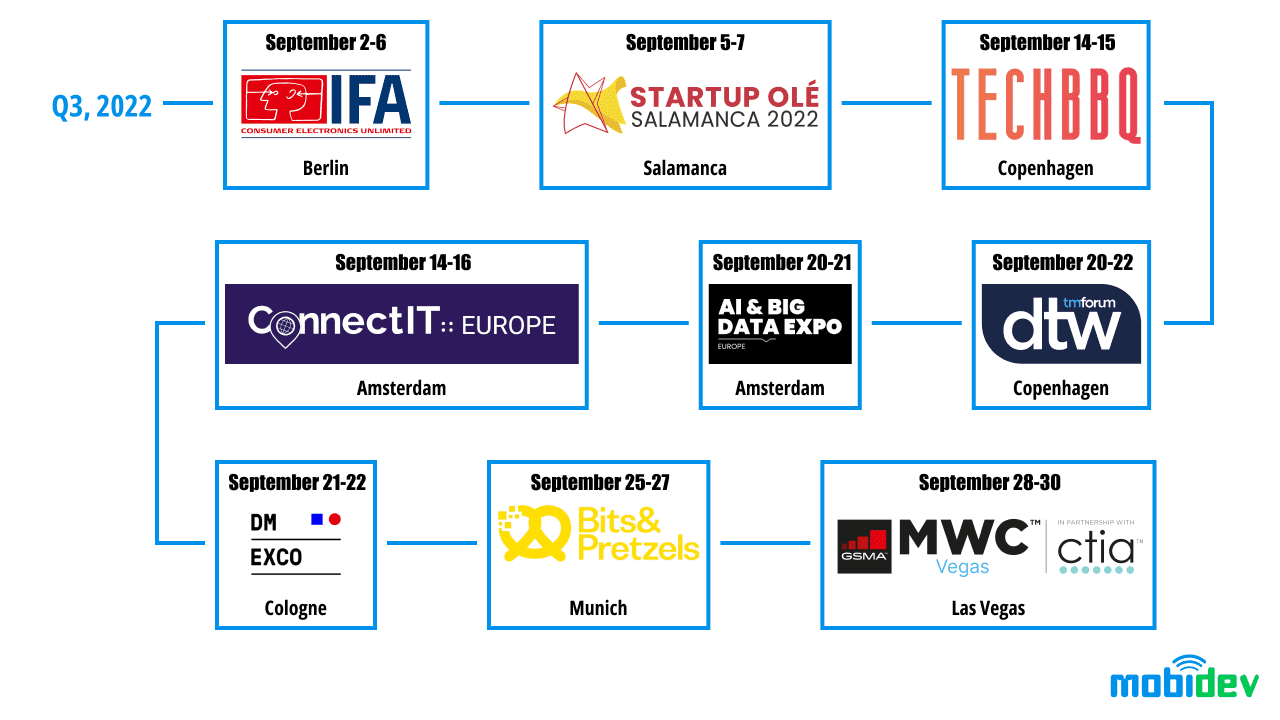 You can book a meeting with MobiDev's representative at any of the events.
General information about the company
MobiDev is a software engineering company that has been privately held since 2009 and has business units in Atlanta (US) and Sheffield (UK), as well as R&D centers in Lodz (Poland) and Chernivtsi (Ukraine). There are over 400 engineers across locations. The company serves US, Canadian, European and Israeli businesses, helping create and launch new software products and evolve existing ones.
MobiDev covers the entire development cycle, relying on flexible approaches. Provided services typically consist of:
➤ Business analysis, requirement clarification, and technical evaluation
➤ UI/UX prototyping and design
➤ Data preparation and AI models training
➤ Engineering and infrastructure deployment
➤ Quality assurance and security checks
➤ Product deploying and post-production support
The company's main areas of expertise are:
➤ Artificial Intelligence, Data Science & Machine Learning
➤ IoT & Augmented Reality
➤ Web & cloud infrastructure
➤ Native mobile & desktop development
➤ Cross-platform solutions
MobiDev brings three main pillars to the development process. First, we provide expertise based on previous experience and constant exploration of new technologies. Also, "understanding goals" for us is ahead of "bringing solutions". And most importantly, we do care about the product and the result. These principles unite our teammates and form the basis of all products we create for our client – this is how MobiDev achieves excellent results and has a 100% success rate on Upwork.
Other reports