How Enterprises Innovate With Wearables & Extended Reality
MobiDev team will soon attend the 5th Enterprise Wearable Technology Summit, the leading event dedicated to the use of wearable technologies for industrial enterprise application. Well before this event, we decided to share some insights from the world of modern enterprise wearables, possible ways to apply them, and obstacles on their way to broader adoption.
Wearable technology first started as a product widely offered to consumers in the field of fitness; soon afterwards, activity trackers gained popularity and paved the way for more sophisticated ideas. Now as time goes on and the technologies mature, their scope has widened to enterprise application and has shown promise for connected workers at smart factories.
Now enterprise wearables are seen as a means for increasing productivity of employees, as data is gathered, shared and stored through a network of connected devices. While the current industry standard is mostly handheld electronics—such as smartphones and tablets—businesses attempt to enter the market with wearable solutions, which include sensors, MR/VR headsets, and AR glasses of varying capabilities. While currently far from mainstream adoption, these devices are already changing the nature of business, from how employees work to how data is analyzed to how businesses communicate with their customers, employees and corporate partners.
As of 2016, the market for enterprise wearable devices was estimated at $3.2B, and is poised to grow nearly exponentially. By 2023, projections see the market at around $32.4B, growing at a CAGR of 38.8% within a seven-year window.
Augmented Reality Development Guide For Business Owners
Types of enterprise wearables
The traditional standard for the process of daily work is changing dramatically with the introduction of enterprise-oriented wearable devices. The adoption of smart devices—glasses, helmets, headsets, watches, and even exoskeletons—is expanding, allowing businesses to gather, analyze, and store data in novel ways. Let's take a look at several examples of enterprise wearables.
Wristwear
Smart watches allow users to receive notifications in real time, which improves productivity, service responsiveness, and quality. Employees report better satisfaction on the job, and overall safety improves for a number of professions.
In many professions, employees are not able to take their attention away from their task in order to pass along or receive a message. Furthermore, manufacturing industries often face the situation where equipment left idle even for a few minutes can lead to bottomline cost issues or safety concerns. Here, enterprise wearables offer significant improvements, starting with the simplest embedded biometric features. For instance, the Apple Watch is able to monitor elevation via a barometer feature. If the Watch records a fall in altitude beyond a certain threshold, it is immediately reported. The Watch is also able to track heart rate, further monitoring the safety of a technician working remotely.
The use of enterprise wearables allows field employees to be connected to pertinent information related to the work at hand. Further, enterprise wearables will quickly become the standard means for recording time entry. Gone will be the days where employees manually enter information into payroll systems after the fact. Wearables will instantly record that data and transmit it directly to management software.
One of the biggest factors driving the adoption of enterprise wearable devices is concern over human health. Chronic conditions like diabetes, heart diseases, and similar afflictions have been rising in incidence. Wearable devices can assist in attempting to stay fit within the corporate context. By tracking exercise patterns, health data, and other wellness-related information, wearable devices can encourage employees to track their well-being and keep healthy habits.
AR/MR/VR headsets
The concept of the Connected Worker involves monitoring in real time and providing constant alerts and updates as the situation warrants. Employees can have access to relevant data at all times and in all locations. They can be assisted by experts remotely, and can participate in AR/MR/VR-based training programs. When incorporating data science, machine learning, extended reality, and enterprise wearables, businesses can transform their workplaces and vastly improve quality and speed of production.
According to estimates from Forrester, over 14M workers in the United States will be routinely wearing smart glasses on the job by 2025. The main selling point of smart glasses in enterprise is their ability to deliver data to employees while leaving their hands free to work on the current tasks. Meanwhile software accumulates data in a knowledge base such as ERP (enterprise resource planning) system, warehousing or manufacturing management system, or a similar software solution. Software is now able to deliver on-time information to employees through the smart glasses, including diagrams, images, checklists, manuals and videos. These info deliveries are directly in the employee's line of sight. Extended reality glasses and headsets are also capable of interacting with devices within the Internet of Things, allowing for collaboration with other linked devices.
The field of heavy industrial assets is one that can particularly be enhanced via smart glasses and headsets. Heavy industrial asset inspections tend to be complex and requiring specialized training and knowledge. Being able to transmit work instructions directly to the inspector's field of vision while on site will dramatically improve quality of inspections.
Yet another routine application for an enterprise wearables is to allow for an experienced or expert employee to mentor employees who are in the field. This kind of remote collaboration between in-house experts and field workers can be assisted by solutions based on shared extended reality.
Aerospace and automotive manufacturers have been leading the way in developing the Smart Factory concept in practice using wearables. General Electric's technicians have been using the Glass EE to view video instructions from their engine assembly manual, and GE has reported a reduction in errors and increase in efficiency amounting to 8-12%. Meanwhile, Boeing's engineers and mechanics have been wearing the Microsoft HoloLens headset to collaborate with their co-workers in remote locations. Airbus has been giving their technicians smart glasses to enhance the process of cabin installation marking, which requires millimeter-precise positioning.
According to Gartner, by 2019 we will see 20% of large businesses implement solutions based on various types of extended reality.
Wearable robotics & exoskeletons
The first prototypes of exoskeletons were developed by the US military in the 1960s. Recently, engineers have been developing exoskeletons to increase strength and other physical capabilities for industrial and medical application. In 2014, the market for robotic exoskeletons was around $68M. ABI Research projects it to be a $1.8 billion dollar industry by 2025.
In 2016, 5,190 US workers died on the job, while nearly 3 million workers were reported suffering from injuries and illnesses. In the field of manufacturing, injured or incapacitated workers took a median 9 days to return to the workforce. Robotic exoskeletons have the potential to decrease employee injuries while also improving physical performance.
Car manufacturers have been at the forefront of exoskeleton implementation. In 2015, Audi field-tested a Chairless Chair, a leg-worn exoskeleton that allowed workers to alternate more easily between standing and sitting down. Ford introduced a pilot program involving exoskeletons in 2017, rolling them out to 15 plants located around the world. These exoskeletons are aimed to help employees performing repetitive overhead functions.
Development of enterprise wearable solutions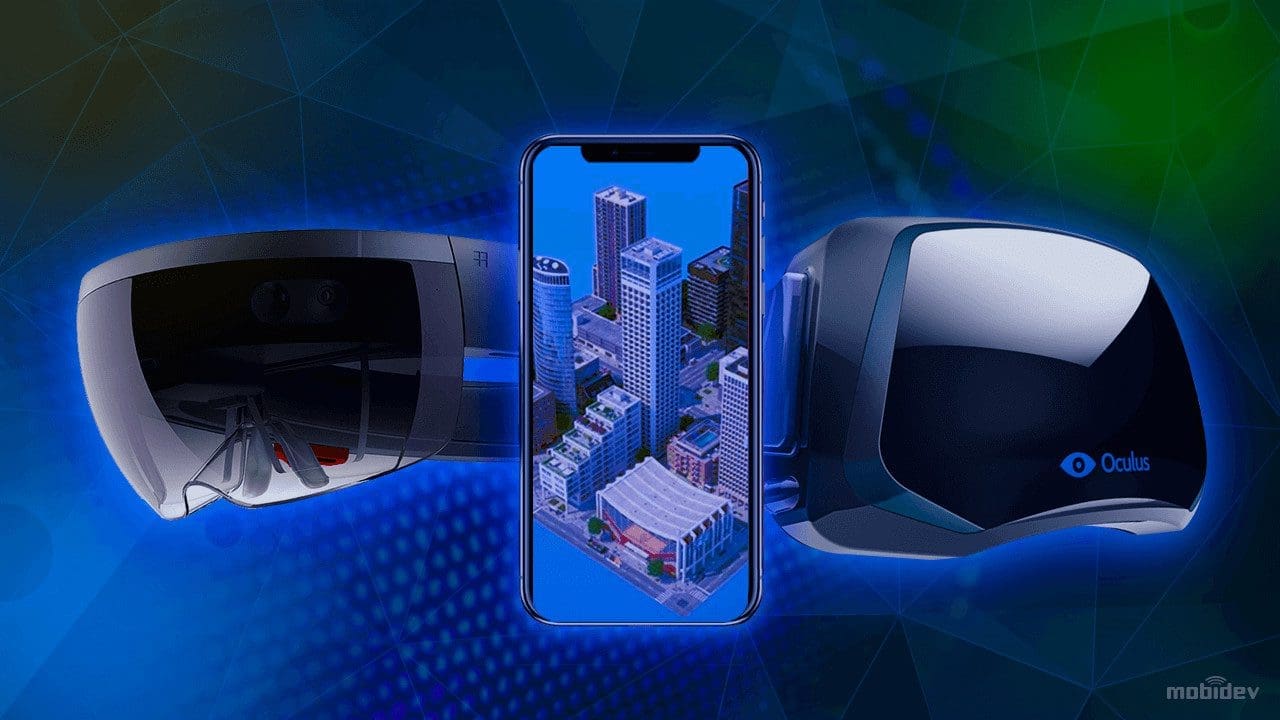 When it comes to hardware products, aiming for the enterprise market and open to partnering with augmented reality app developers, we can outline two major groups. The first one comprises widely available wristwear, quite well represented by Apple Watch. The second, and way more sophisticated one, involves smart glasses and headsets. The leading position here is arguably occupied by Microsoft HoloLens, which is generally representative of the current situation on the headset market—high costs and constraints in terms of hardware specs and capabilities.
However, at every tech conference we attend, we see large enterprises—from healthcare to energy and industrial businesses—with a need to embrace advances in technology to build business-driven solutions despite the abovementioned obstacles. Our own cases involve HoloLens-based solutions that allow factory engineers to monitor operations and gather data from various sensors with hands-free devices in real time, which had the goal of ultimately reducing downtime risks and breakdowns that may bear risks for human health. For a more open product, check our recent HoloLens demo in our Augmented Reality Demo Collection.
While the wristwatches have successfully entered the mass market, headsets like the HoloLens are still too pricey and less prone to wide adoption—even if we limit it to the enterprise usage. However, we believe that the existing obstacles are temporary, and the upcoming Enterprise Wearable Technology Summit will bring us more news and stories to share. Stay updated with our blog and feel free to check our AR development services!