Augmented Reality Business Cards: Use AR For Brand Promotion & Advertising
Developing augmented reality apps has become one of the most engaging means of delivering your products and services right to the pockets of your customers. Meaningful application of AR can become a novel way of interacting with your audience and bringing value to them, with improved visual recognition and emotional attachment.
Augmented Reality Development Guide For Business Owners
Our today's example is an augmented business card. It certainly distinguishes itself among those collected by your potential business partner at the conference where you met. Your card becomes a source of information about your company, a link to your social accounts and email, and a screen for your video pitch. Interested how it works? Check the video to find out!
This example involves the image tracking feature introduced by ARKit 2.0 in iOS 12. It allows to track images on physical objects and fit virtual images with them, in our case creating an augmented business card—a nice way to use Augmented Reality for marketing.
Benefits brought by this technology include:
• Increased customer engagement and emotional attachment: people love using innovations, and Augmented Reality, although it's quite widespread at the moment, still counts.
• Virtual assistance: any details about your products and services can be conveniently delivered right to the smartphones of your customers. Virtual manuals work as well.
• If we combine the abovementioned points with a simplified purchasing process, we get faster purchase decisions and a shortened sales cycle.
• Use of varied branding content: text, images, video, audio, links, interactive content, etc.
For more video demos, check out our Augmented Reality Demo Collection.
Why Choose MobiDev for AR App Development
If you're ready to make your idea a reality, our augmented reality developers can help you find the solutions you need to gain an edge in the market.
Having an extensive experience with innovative technologies, our augmented reality developers know how to overcome the limits of existing AR frameworks to create more effective solutions. Combining AR with advanced artificial intelligence and machine learning algorithms can help you provide more accurate and realistic AR experiences, improve app performance and increase customer satisfaction.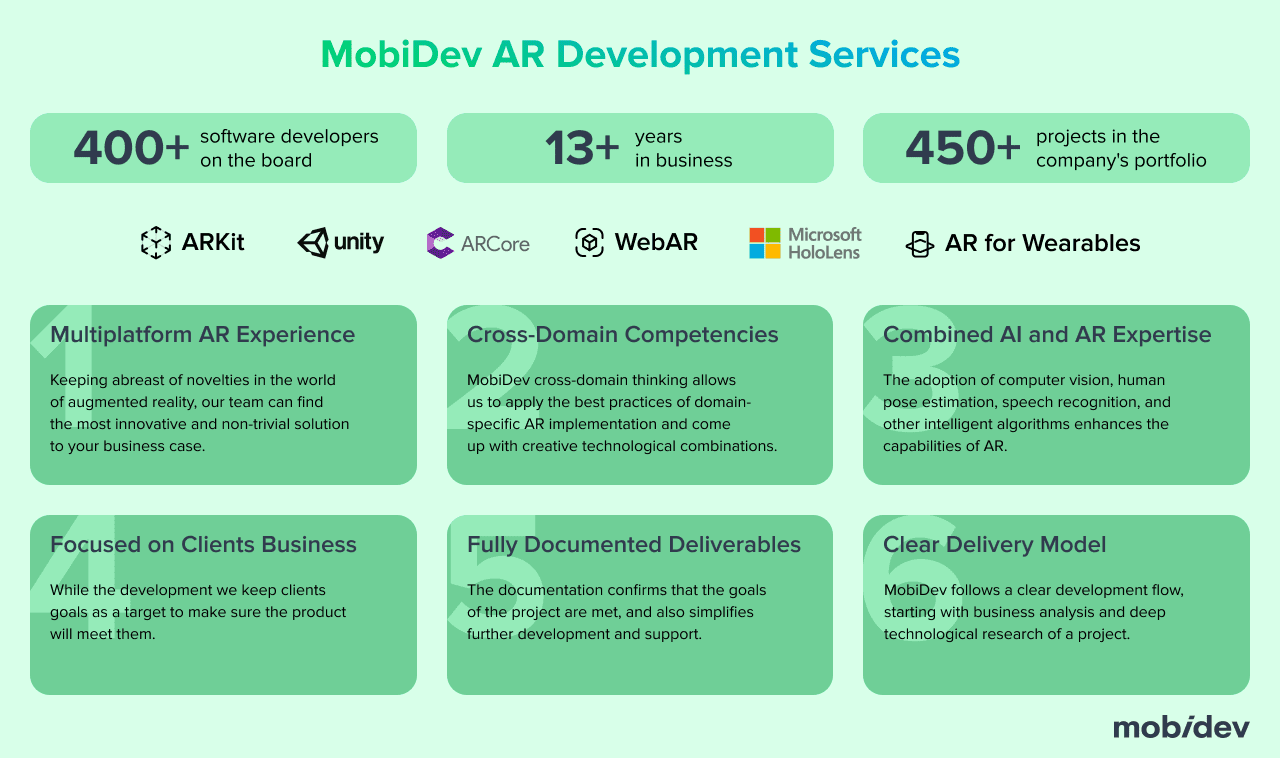 If you are looking for an augmented reality development company to bring your idea to life, feel free to contact us.