Nana Hrytsenko's Story: We Continue to Work, to Develop and to Deliver
APD: Nana's current place of living, Lodz, Poland.
Image credit
Read about MobiDev's people, who managed to set up their work in times of war invasion.
On Thursday 24th we were planning our regular marketing team meeting. Due to COVID19 restrictions we were going to discuss time management skills in lockdown conditions. Little did we know that our time management skills would be a matter of survival at 5 o'clock the next morning.
When I woke up to some distant sounds of artillery I immediately understood this was an emergency situation, but «let me have my sleep». The next moment I heard my neighbors running upstairs and decided to check the wifi. It was disabled. I got a message from my friends asking: «How are you?». At that time I could not imagine that this small-talk question would be considered to be the new I LOVE YOU message in Ukraine. The trigger for me to understand the seriousness of the situation was the immediate message in the company chat that Russia had officially announced war with Ukraine. At this point it was clear that I was one of the numerous Ukrainians who were attacked in their country by Russian troops. 
To have a plan or to make it up on the go is a professional skill that worked out perfectly for me. Needless to say, it's hard to have one when Russia wages a war against your country. I managed to buy some food, pack my bag and gather my friends to go and work at my parent's home. Throughout the day we were getting the news about the situation and it became clear that soon there would be no safe place to stay and probably no internet and I must relocate. First and foremost I was checking our chat for the road info. Messengers were overwhelmed with the news and to get the most relevant advice was possible only from people who are suggesting while driving.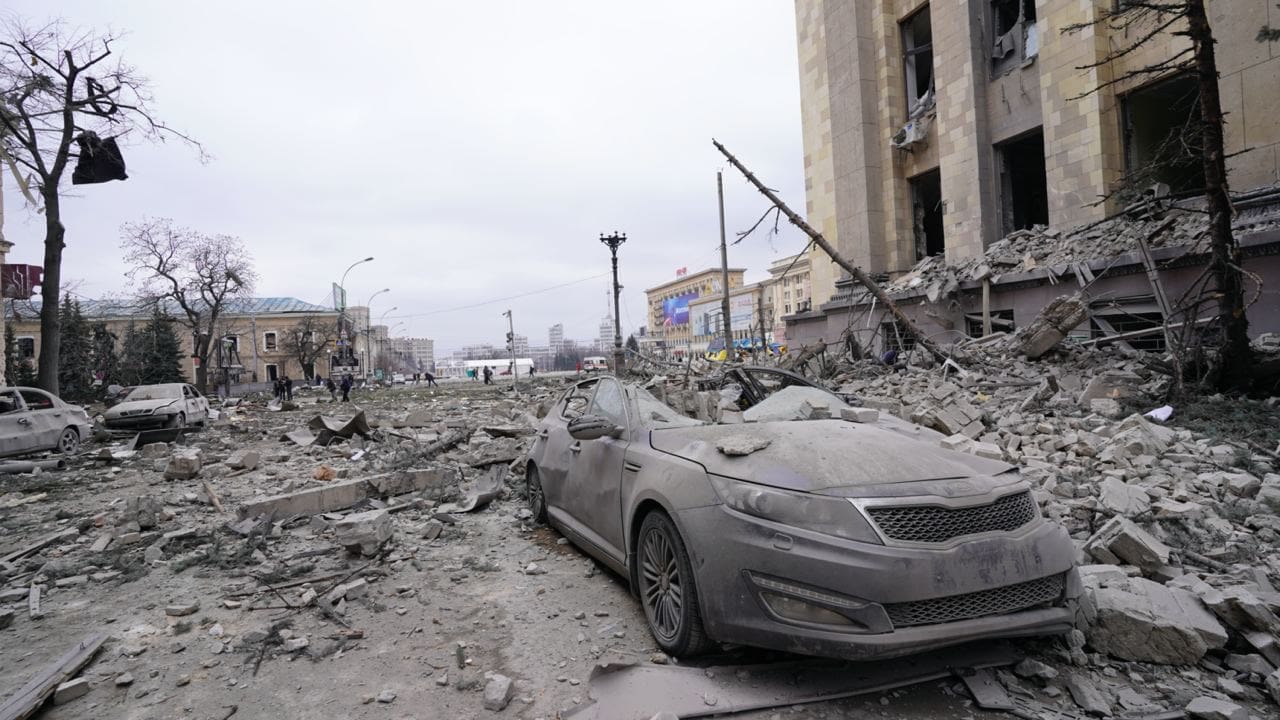 Freedom Square in Kharkiv destroyed by Russian missiles
Photo by Kirill Gonchar
We are extremely lucky to have friends all over the world, who immediately started to ask what's going on and how they can help. I was constantly answering, trying to tell in detail all I remembered and all I knew. I believe storytelling is one of the most important elements to fight against the false propaganda and ambiguous statements.
We got in the car and together with our friends drove to the Western Ukraine. The further we were driving, the calmer it was – these cities didn't have troops on their borders and people were not so alarmed. As we appeared in Zalishchyky, Ternopil region, I felt a relief and could proceed with my daily working routine. Although I was still helping my friends and family to have a safe drive and engage in some volunteer activity at the local school, the ability to continue a normal life gave me a needed balance to stay efficient at my job.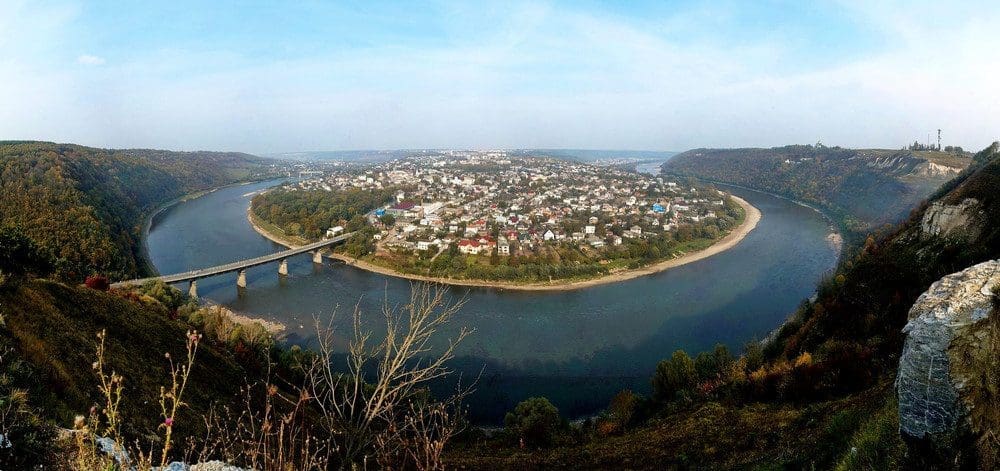 Zalishchyky, Ukraine
Due to the numerous reports on the cruel massacre of the Ukrainian population and destruction of Ukrainian cities, everyone understood that now the future of Ukraine is in our own hands and we must do what we can in the best possible way. Everyone should ask themselves: where is the best place for me to be in order to stay efficient? After a week in Zalishchyky my family and I decided to move to Lodz, where MobiDev Polish office is located. 
It took us 4 days to travel by trains through Romania, Hungary, Slovakia, Austria and Poland. I'm extremely grateful to the dozens of people who made this happen, providing us with accommodation, transportation, food – everything we needed, you name it. Throughout the journey we were receiving so much support and attention, that I can say for sure – the world stands with Ukraine!
My colleagues and I are uniting from all over the world to do our job. We are experts who excel in our professions. We continue to work, to develop and to deliver.
At the moment I'm in Lodz, working from the office, meeting new colleagues, donating and waiting for our victory!