Julia Ramyalg's Story: I keep calm, work, care about my family, support the Army, and pray for Ukrainians
Julia's current place of living, Saint Gervais Les Bains, France
Read about MobiDev's people, who managed to set up their work in times of war invasion.
I woke up at 05:08 a.m. on February 24, 2022 with unexplainable anxiety. What are these sounds? Is it somebody's birthday fireworks? One minute… two minutes passed, and I realized that the many-times-predicted invasion of Russia had started. We'd been waiting for Russia's invasion for a couple of months. Catholic Christmas, Orthodox Christmas, February 16, 2022, February 22, 2022. My "emergency suitcase" was packed on February 15, 2022, I withdrew cash and filled up the full tank of my car on February 21, 2022. I was prepared but didn't believe it would happen. 
That morning on February 24, 2022 I woke up my kids trying to speak as calmly as possible. I called my mum asking her to come to my home. The next few hours we were sitting in the hall between two concrete walls in my apartment, and waiting for something. For a miracle that the sounds of artillery would end? For an announcement that all this was a mistake, a joke, a nightmare?
I had to go outside to walk my dog. Long queues to the ATMs, grocery shops, tobacco kiosks. A crowd of people was looking up at a drone flying high in the sky, and nobody knew if it was a Ukrainian or Russian one.
In MobiDev's corporate chat we were constantly updated about the emergency status. It changed rapidly from "orange" to "red" during a couple of hours. People were going out of Kharkiv and it caused long traffic jams in both the southern and western directions. I still didn't know what to do. At 1p.m information appeared that Kharkiv could be bombed and it's recommeded to hide in the nearest bomb shelter or a metro station. 
At 1:45p.m. I entered the metro station with my mum, kids, and our dog. We had only the most essential necessity things with us, 4 sleeping bags and yoga mats. We spent about 3 hours in the shelter, and more and more people arrived with kids, babies, dogs, and cats. I had a feeling that all this was just a bad dream and I would wake up soon. At 5 p.m. I met my friend and her family in the shelter and they suggested going together to the west of Ukraine. We didn't return to our home to get more things and clothes and we instead headed to the south out of Kharkiv.
Ahead of us was 32 hours of driving, with empty gasoline stations, bad road conditions, scared kids, the nervous dog. And the fear of being attacked by Russian artillery or missiles at any moment. We passed Dnipro, Kryvyi Rih, Uman, and Vinnytsia, hearing the sounds of sirens warning of the air raid. While I was driving, my 17-year-old son was constantly monitoring telegram channels to stay updated about the road conditions and the war updates. The next two days we spent in Ternopil in the house of our relatives, going down to the cellar 3-4 times a day to stay safe from the air raids. 
In the morning of the 5th day of the war we crossed the Hungarian border, were met by my french friends and headed for France on a minibus. The trip took us 2 days. All the time I was monitoring dozens of chats and telegram channels trying to help my friends and colleagues to take a safe road out of Kharkiv, to find accommodation in the western cities of Ukraine.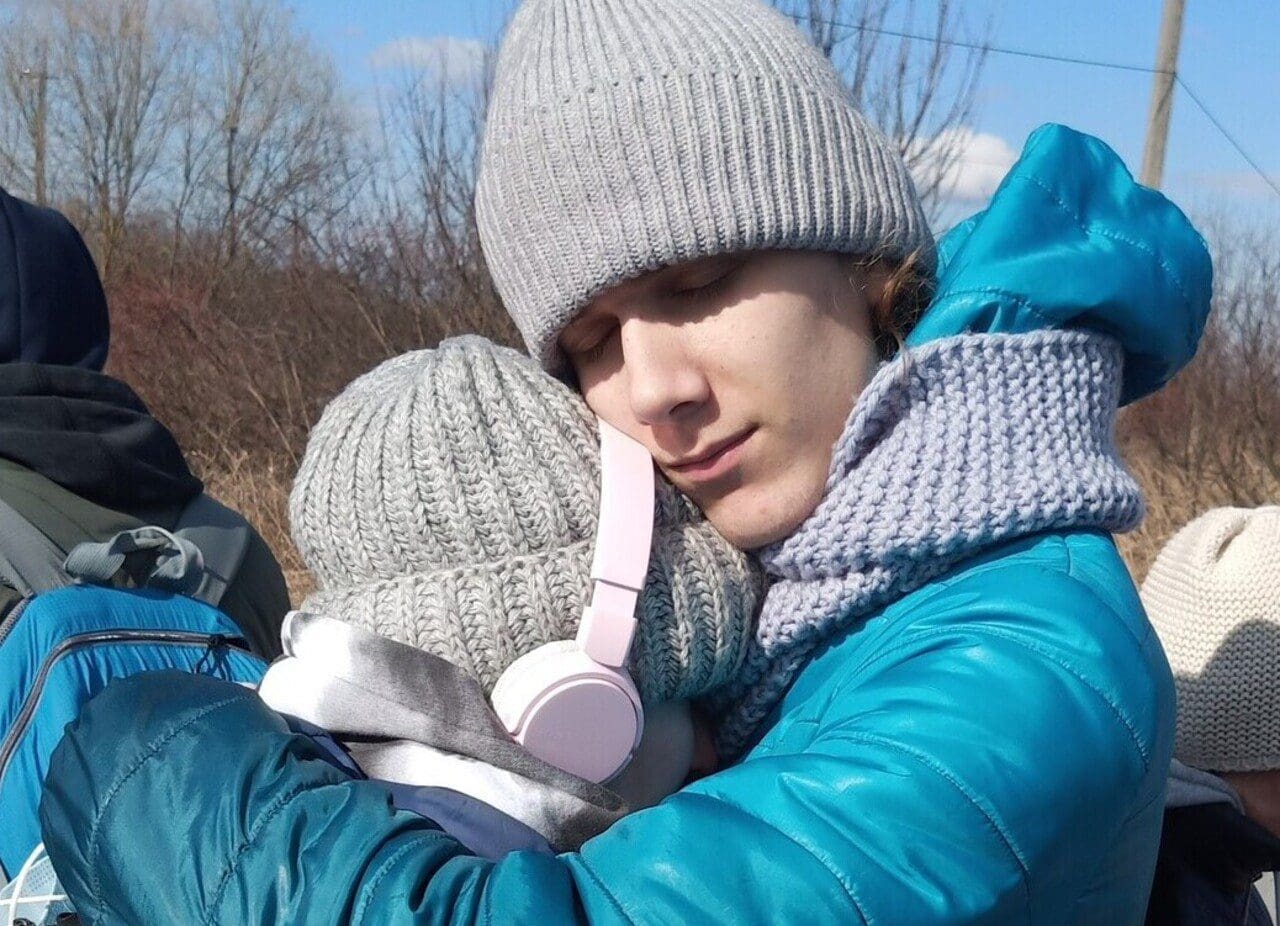 My children at the Hungarian border, leaving Ukraine and their father
Now I've been staying in a french village next to Montblanc mountain. Due to my past hiking and mountaineering activities I have known this region a little and have made good friends here. They have helped us a lot, giving us accommodation, food, clothes, and warm hugs. It was my birthday on March 2 and my friends did their best to make this day perfect.  
Currently,  my family and I are safe. My children have resumed their school lessons as they acquired self-education skills during the COVID-19 lockdown. I am so happy to start working again, doing the marketing things I love. On weekends, I can walk with my dog in the mountains and forests.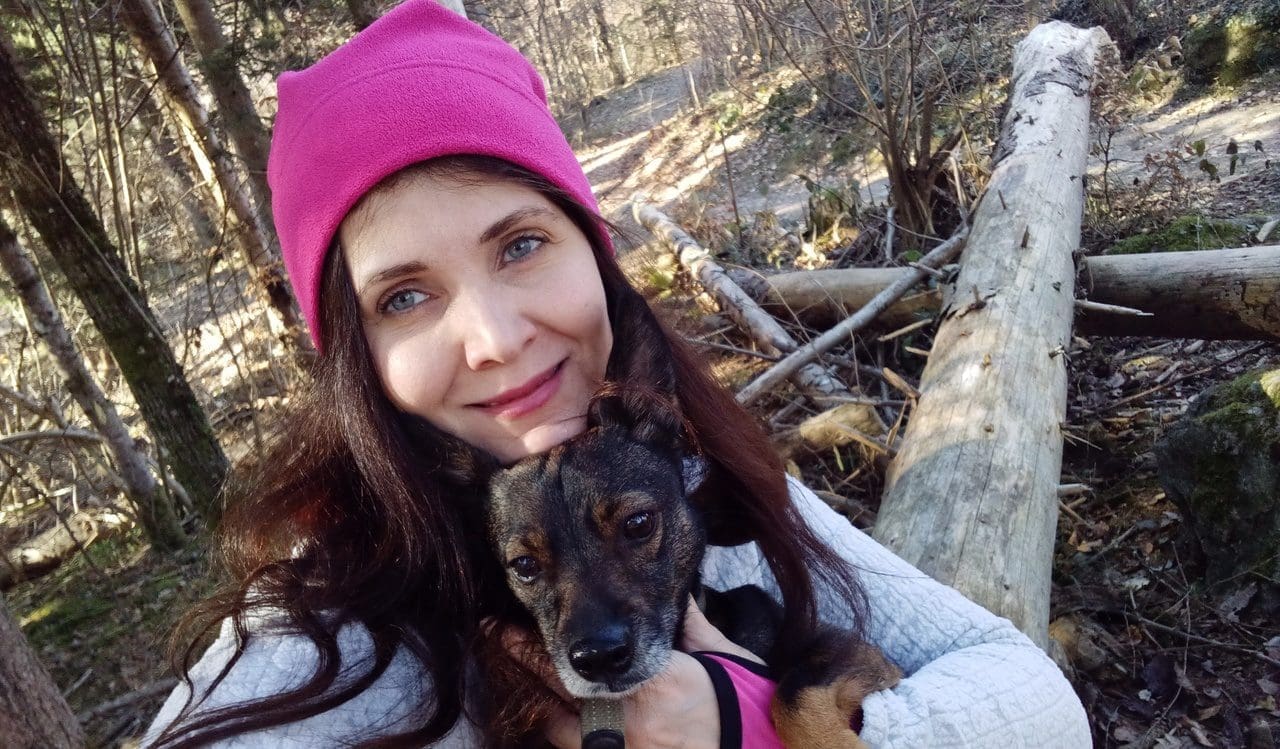 My dog is stressed a lot after having made a 3000km trip and changing homes four times in 6 days
But my heart is bleeding when I see photos of Kharkiv, my poor city destroyed by Russian missiles and bombs. I am just praying for my family members and friends who had to stay in Kharkiv and do hope that my apartment will stay intact. It was my first priority to get my family to a safe place and try to get back to normal life as soon as possible. I keep calm, work, care about my family, support the Ukrainian Army, and pray for all Ukrainian people.