MobiDev creates custom business software, from mobile and desktop apps to server-side software and complex systems for clients around the world. Because of extending our team to Poland, we invite an experienced Managing Director to join our team in Lodz. The vacancy involves a wide range of tasks related to ensuring company growth in the Polish market and managing teams, decision-making in the area of workforce planning and hiring. If you want to put your skills to use to find the most efficient solutions, just contact us — we are waiting for you!
Responsibilities:
Determining the goals of the company's development in the local market;

Preparing a development plan to take these goals;

Approving the budget for the company's development plan;

Launching of hiring;

Participating in the recruitment processes;

Approval of salary review for internal specialists;

Formation of the company's brand on the Polish market and building PR;

Implementing Polish cultural practices in the office.
Requirements:
At least 3 years of experience in managing teams;

Experience in project management;

Expertise in other management practices: people management, change management, strategic management;

Upper-intermediate level of English and Polish;

Knowledge of labor laws;

Willing to work within a budget;

Deep knowledge of workforce and business planning.
Would be a plus:
Experience in opening and management new offices;

Knowledge of the IT industry;

Experience in working with international teams.
We offer:
Challenging goals and rewarding steps to make your career more successful;

Opportunity for self-realization and professional growth;

Long-term cooperation with employees and clients;

Compensation for internal English language training;

Flexibility of work and scheduling;

Income that grows along with your achievements;

Paid vacation and sick leave.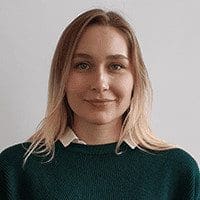 Kseniia Popova
Email:
k.popova@mobidev.biz
Skype:
live:.cid.961df6f7ee1764a7
Apply for

the position here

Please, complete the fields below.

One of our recruiters will review your info and contact you as soon as possible!