WHAT OUR PRODUCT IS ABOUT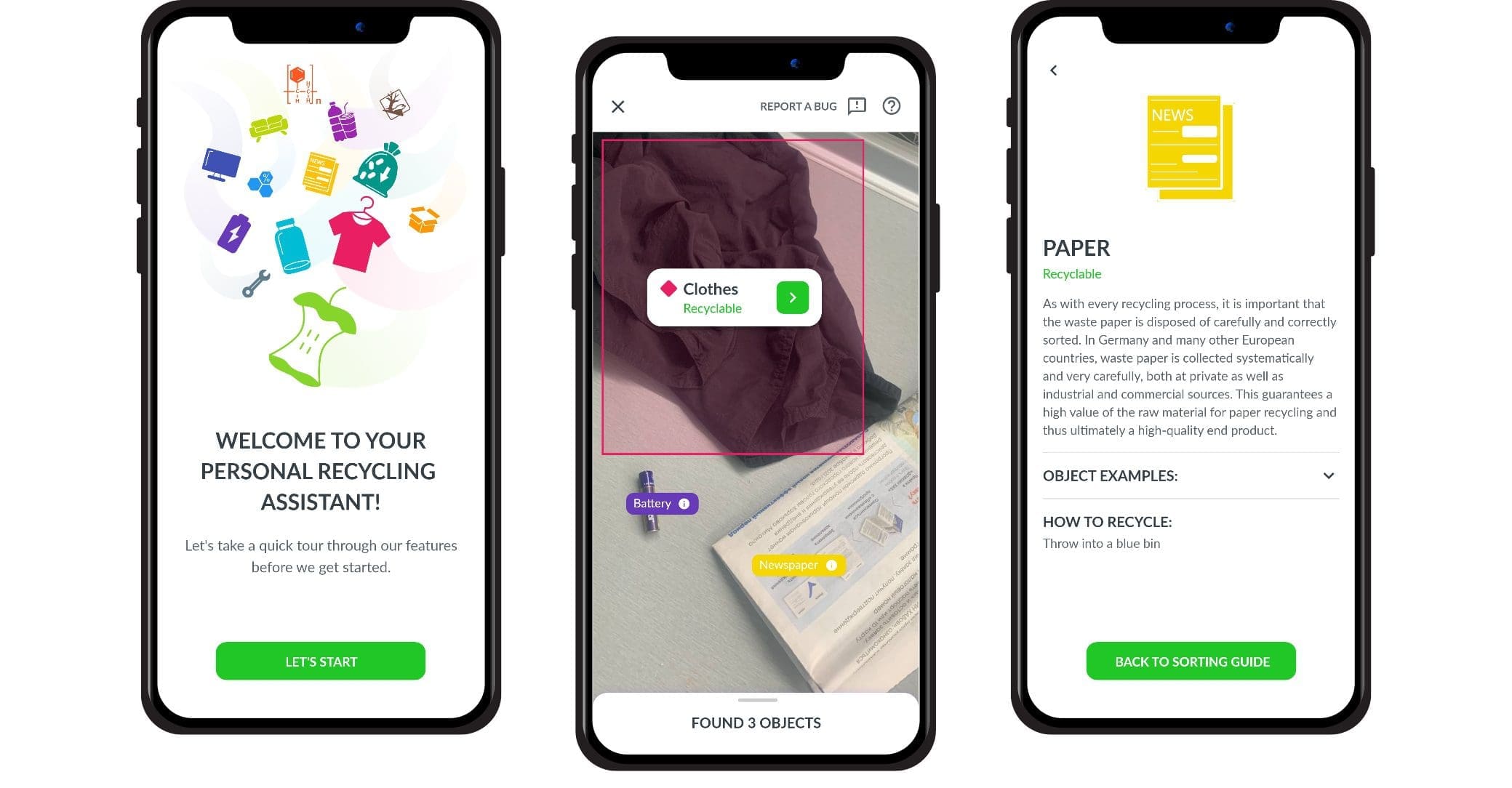 Recycling Assistant is an AI-based mobile app that recognizes rubbish types and makes recycling recommendations.
With the help of Recycling Assistant, users can improve their recycling skills in a modern way, get a rubbish-sorting habit, and know how to recycle properly in a foreign country.
HOW RECYCLING APP CAN ENHANCE YOUR BUSINESS
Promote eco-sustainability

With climate change and significant growth of environmental problems, everyone is looking to become more eco-friendly. This eco-trend is followed by many brands aiming to make the world a better place and increase customer loyalty.

Attract new customers

80% of consumers say sustainability matters to them, and 57% of consumers are willing to change their purchasing habits to reduce environmental impact. That's not something businesses can ignore, which is why 53% of brands say improving sustainability is a top priority this year.

Decrease waste management problems

Approximately 2 billion tonnes of waste are dumped all over the planet every year. Cities worldwide have been struggling to find ways to improve waste management – a core competence of many city governments. That means forcing companies to a more responsible and eco-friendly businesses.

Minimize environmental harm

One of the biggest environmental issues is a latent waste. In the fashion industry, for example, 85% of the textiles are sent to a landfill every year. E-waste is also a major problem. Only 12.5% of electronics are being properly recycled and the rest piling up in a landfill. Thus, it is important for brands to create a waste management system for harmful materials.

Encourage people to be more eco-conscious

One of the biggest barriers to eco-sustainability is that people just don't know where to start. Starting with correct recycling is a good first step on this path. Especially, if your favorite brand supports you in this endeavor.

Follow the principles of reliable, eco-sustainable business

Managing waste, water, and energy more efficiently are core components of sustainability. Improving your organization's sustainability can boost your corporate image, attract quality tenants to your properties and positively engage employees.
BUILD YOUR INDUSTRY-SPECIFIC AI SOLUTIONS
FAST PRODUCT DELIVERY
LOW INITIAL INVESTMENT
LOW COMMERCIAL RISK
PROFESSIONAL SUPPORT AND MAINTENANCE
PRODUCT CUSTOMIZATION ON DEMAND
PRODUCT PRESENTATION UNDER OWN BRAND
TESTING RESULTS FOR 4-MONTH PERIOD
4.8
RATING
4
UK, GERMANY, POLAND, CZECH REPUBLIC
HOW WE SETUP AND SUPPORT THE PRODUCT
OUR TURNKEY SETUP IMPLIES
Product deployment for your brand
Setup the logo of your brand to the product
Recycling rules customization
Publishing to Play/App stores
Product onboarding for you and your team
OUR SUPPORT IMPLIES
Bug fixes
Technical updates and support
5-people team for support and maintenance: mobile app developer, AI engineer, QA engineer, DevOps engineer, PM
400 +
SOFTWARE DEVELOPERS ON THE BOARD
450 +
PROJECTS IN THE COMPANY'S PORTFOLIO