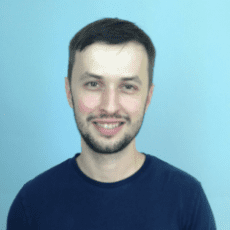 Viktor Volontsevych
Ruby Team Leader
I've been a part of MobiDev for 8 great years, working as a Software Engineer and Team Leader. My job is all about building web apps, solving problems, and helping my team do their best work. I'm the go-to person for figuring out how to do tricky things in design and coding. I work closely with our clients to understand what they need and make sure we deliver it just right. We've tackled some big projects together, and I've been leading one of those projects for the last 4 years.

I'm also the person who makes sure everything works smoothly behind the scenes. I've set up systems to make our work better and faster, and I make sure our code is top-notch and easy to understand. When new people join the team, I help them get up to speed and feel at home.

I believe in doing things right and making sure our clients are happy with our work. Whether I'm coding, leading the team, or making sure everything is running smoothly, I'm always focused on doing a great job.

In my free time, I love traveling and reading. Being a Software Team Leader here has been a big part of my life, and I'm proud of the work we've done together.
---