Bluetooth Low Energy For Your Next Internet Of Things Project
Today's market of IoT solutions is rather fragmented in a sense. Being a launchpad for standalone business-driven innovations, it still struggles towards interoperability and unification. Bluetooth Low Energy is one of such unifying standards that have already settled down in the IoT world. As opposed to the classic Bluetooth, it offers considerably reduced power consumption with a similar communication range, with an approximate theoretical maximum of 100 m (330 ft). BLE technology offers a variety of possible application: from wearables and smart homes to healthcare, from connected cars to large-scale enterprise sensor networks and industrial IoT.
The keys to this technology are simplicity, compatibility with numerous devices, and low cost in both development and support. It means that a trusted brand brings an easily adopted solution for early market entry and reduced time to market. There are 3 types of connection that could be implemented in your next Internet of Things project.
One-to-One is widely used in the health & fitness domain, where low power consumption devices like fitness trackers and smart watches are used to track daily activities and send this data to users' smartphones. Healthcare benefits from it, too: numerous medical devices can be connected via BLE software. Below you will find a fitting example of Bluetooth Low Energy in automotive IoT.
One-to-Many is applied in the areas involving item-tracking and way-finding beacons, as well as point-of-interest beacons. Smartphones have become the ultimate devices for the said purposes, where sending small bits of data using little energy is enough to perform the required action.
Many-to-Many presuppose home automation and sensor networks as the most promising areas of use, well-suited for developers and system integrators in the IoT sphere. The most recent Bluetooth 5—with a promised 4x range, 2x speed and 8x broadcasting message capacity—will cover the needs of smart homes and offices, allowing to connect various devices throughout entire buildings.
Each type is accompanied by a regularly updated specification, which comprises the building blocks used by our developers to create products and entire ecosystems.
For any type of BLE connection, perhaps the main issue is security: passive eavesdropping, identity tracking, and man-in-the-middle attacks are a threat if not taken care of. AES-CCM cryptography works to protect the transferred data and provide an extra level of security. Identity tracking can be stopped with regular changes of device addresses. Intervention of malicious devices can be prevented with using a correct pairing method. At the same time, secure pairing methods may cause constraints in other areas. Our experience shows that it is important to analyze possible threats for every individual project, then select and combine appropriate options that cover requirements for both security and functionality.
Success story: Bluetooth Low Energy in automotive IoT
Our client—a manufacturer of vehicle electronics—addressed us to build software that would allow car owners to remotely control suspension of their cars with a smartphone app. It would interact with a piece of hardware installed in the owner's car, established with password authentication. The initial idea of using Wi-Fi was abandoned in favor of a two-way BLE connection, which allowed to operate under reduced power consumption—an idea that will surely be appreciated by every smartphone user.
This app is called Active Suspension Control (ASC). Take a look at the way it works in this short video.
The client provided us with the device for testing purposes. ASC was tested on the 3 latest iPhone models, while Android was covered with 5 relevant devices that covered as much ground as possible. ASC for iOS, which started it all, was delivered within the set deadline – 5 weeks after the start of the project.
While ASC apps are now available for both iOS and Android, more new products are currently under development. For example, one of them, called Active Sound Gateway (ASG), follows the same pattern: BLE-based interaction with hardware, which is, once again, installed in a car to alter the tailpipe sound. Both ASG apps are currently ready and will be published as soon as the new hardware hits the market.
Spheres that can involve BLE as an essential part of software products
Healthcare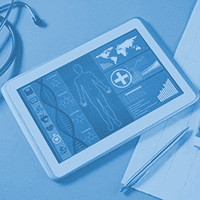 We have already mentioned the use of BLE in healthcare applications. All kinds of smart hardware—from heart rate monitors to glucose meters—can embrace BLE and help healthcare professionals to provide patients with services of high quality and precision.
Sports and fitness solutions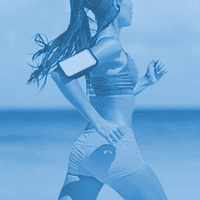 Low power consumption makes BLE a perfect wireless connectivity means for sports equipment. The variety starts with fitness trackers in smart bands and watches and finishes with complex devices used by professional sportspeople to get essential information about their performance: from number of steps and distance to heart rate and calories burned.
Point-of-interest beacons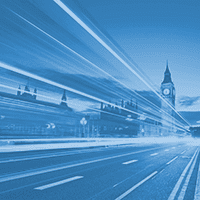 The broadcast topology of BLE has support for localized information sharing and is open to creation of point-of-interest beacon solutions – retail, tourism, education, transportation, and even the concept of smart city – the opportunities are huge. The numbers are quite impressive as well: ABI Research forecasts the entire BLE beacon market to reach 500 million units by 2021.
Peripherals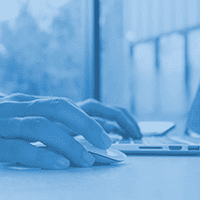 The evolution of devices that we use daily makes it clear that wires are no longer needed to be connected. BLE serves this purpose. Everything can be united under a single wireless protocol. Mesh networks can help overcome the limited connection range by means of intermediary nodes. Other alternatives—such as different means of connection—can be selected according to the specifics of a particular project.
Item- and way-finding beacons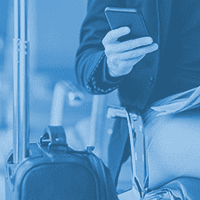 These markets are expanding rapidly with inexpensive solutions gaining popularity. The issues of locating lost belongings or finding a way through crowded campuses, stations, and airports are solved with convenient mobile apps.
Automation and sensor networks

Bluetooth mesh networking ensures full interoperability and a high degree of scalability. It can become the basis for enterprise-grade networks, control and automation means for smart homes and offices, as well as asset tracking solutions.
Your next business-driven innovation can become a major breakthrough in the Internet of Things. All it takes to succeed is a well-versed team and well-orchestrated project processes. At MobiDev, we build our work according to your business environment and integrate with it.
Speaking about specific projects, you may learn more in our new IoT case study. And of course, feel free to contact us with any questions and ideas – let's get it started today!